[Masterclass] The art and international law laboratory
15 - 16 July 2021
Starts at:

09:00h

Fee:

€995,- €495,-(Students and NGO-workers)

Venue:

Online (Subject to change)

Organiser:

T.M.C. Asser Instituut
In our rapidly globalising and digitalising world, the challenges for international lawyers with respect to evidence-gathering, access to justice, and the consolidation of accountability and legitimacy are increasingly complex. This Masterclass offers you a fresh and inspiring perspective on these issues by drawing connections between international law and the arts. We invite you to step out of your comfort zone and to explore the challenges of your profession from a creative angle.
The Masterclass will provide you with an overview of contemporary research in the field of art and international law as well as the areas of visual anthropology and legal design. In three consequent workshops, you will experiment collaboratively with artistic tools to develop creative and innovative solutions for legal problems, under the guidance of professional artists from various disciplines. This Masterclass will expand your legal toolbox with insights from the arts and visual studies.
The coordinator
Dr Sofia Stolk is a researcher at the Asser Institute and the coordinator of the Camera Justitia programme at the Movies that Matter Foundation. Her current research project, entitled 'Justice needs to be seen to be done: The International Legal Landscape in a Visual Age', studies the use of visual means within international courts and tribunals and the proliferation of images about international law. She has widely published about the intersection of art, architecture, culture and international law. Sofia is experienced in organising lectures and events on these themes in cooperation with law schools, cultural institutions and independent artists.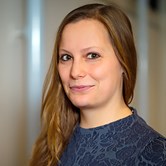 Certificate
After the successful completion of this Masterclass, you will receive a professional certificate from the T.M.C. Asser Instituut.
Terms and conditions
Read the terms and conditions for the masterclass series.
T.M.C. Asser Instituut - lifelong learning opportunities for professionals and academics globally
Coronavirus policy
The Asser Institute follows the official guidelines of the National Institute for Public Health and the Environment (RIVM) and the Netherlands Ministry of Foreign Affairs. The format of our events may be subject to change. Please check our website and social media platforms for updates. You can also sign up to our Educations & Events mailing list to be informed about COVID-19 updates.