[Winter academy] Artificial intelligence and international law
21 - 25 February 2022
Starts at:

09:00h

Fee:

Regular fee: €1.295 / Student fee (including PhD): €750

Venue:

T.M.C. Asser Instituut

Organiser:

T.M.C. Asser Instituut
In February 2022, the Asser Institute will host the fourth edition of its annual Winter Academy on Artificial Intelligence and International Law. This innovative training programme provides participants with insights into the current and future issues raised by AI from the perspective of international law and related disciplines. The programme will take place in the week of 21–25 February 2022 at the Asser Institute in The Hague (subject to change).
Background
Artificial intelligence (AI) comes with many promises. It has the potential of providing for cognitive abilities going beyond human capacities, which could lead to significant scientific and societal progress. At the same time, the use of technologies that display increasing degrees of autonomy brings in significant ethical, legal, and policy challenges. AI is disruptive to fundamental legal norms and concepts, as well as to systems of international governance.
Programme description
The Winter Academy is an interdisciplinary programme that offers in-depth perspectives on AI and international law. It provides foundational knowledge on key issues at the intersection of theory and practice, and offers a platform for critical debate and engagement on emerging questions. The programme covers technical aspects of AI, philosophy and ethics of AI, AI and human rights, AI and international humanitarian law, AI and international responsibility, and international governance of AI.
Indicative list of topics:
Understanding AI technology
Responsible AI and ethical design
Human-machine relationships
Ensuring respect for human rights in the context of AI
Military applications of AI and the international law of military operations
Individual and collective responsibility in relation to AI
International governance of AI
Target audience
Researchers and advanced students (master or PhD) in the fields of international law, political science, philosophy, or computer science
Policy analysts and legal advisers working on innovation and technology in public or private institutions
Industry professionals interested in the law and governance of AI
Coordinator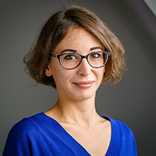 The Winter Academy is coordinated by Dr Berenice Boutin, senior researcher in international law at the Asser Institute, and project leader of the DILEMA research project on Designing International Law and Ethics into Military Artificial Intelligence.
Registration & questions
To register for this winter academy, click here or on the 'register' button at the top of the page and fill out the form.
After successful completion of this winter academy, you will receive a professional certificate from the T.M.C. Asser Instituut.
Please contact educationtraining@asser.nl with any inquiries.