Cities and international law in the Urban Age
Published 19 February 2019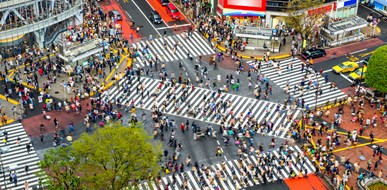 On 14 & 15 March the Asser Institute will host an international conference on the internationalisation of cities: Cities and international law in the Urban Age. The conference is part of Asser's research project on global cities and international law, 'The Global City: The Role of Law, Then and Now'.
We live in an age in which urbanisation, globalisation and decentralisation are reshaping our local, national and international communities, and the way we govern them. Global governance mechanisms and international legal norms affect cities, and in turn, cities have become relevant actors in international law and global governance. Sustainable Development Goal 11 – the pledge to 'make cities and human settlements inclusive, safe, resilient and sustainable' – is a case in point. This Sustainable Development Goal on cities testifies to both the globalisation of urban governance and the urbanisation of global governance.
United Cities and Local Governments, the largest intercity organisation, for example, plays an important role in sustainable development processes led by the United Nations. And C40, another prominent intercity organisation, is a vocal promotor of global climate change policies. In addition to being active in the international arena, these intercity organisations are, in cooperation with international institutions, localising international norms and thus developing novel - 'glocal' - governance mechanisms.
About the conference
The Cities and international law in the Urban Age conference hosted by the Asser Institute will bring together a very diverse group of internationally renowned researchers working on the changing relationship between cities, international law and governance. The authors will bring a variety of perspectives (historical, theoretical, constitutional, and regional among others) and come from different academic fields (such as climate change, health, security, sports, migration and human rights) and disciplines (international law, international relations, political science, sociology). Presentations will not necessarily be in their final stages, leaving plenty of opportunity for discussions and feedback.
The aim of the conference is to examine a wide range of practical developments and theoretical dimensions of the changing position and role of cities in international law and governance. With that, we hope to enhance the visibility of this development in wider academic circles, and to stimulate a debate that will bring new insights to this developing field. The conference programme is available here.
The conference is organised by Helmut Aust (Freie Universität Berlin), Janne Nijman (T.M.C. Asser Instituut/University of Amsterdam) and Miha Marcenko (PhD candidate at the T.M.C. Asser Instituut). It is supported by the Municipality of The Hague and the Gieskes Strijbis Foundation. It benefits moreover from close contacts with the International Law Association's Study Group 'The Role of Cities in International Law' co-chaired by Helmut Aust and Janne Nijman.
Would you like to join?
Interested researchers or professionals working on international law, global and/or urban governance or another relevant field are welcome to join our discussions. For further information, please contact Mr. Miha Marcenko on m.marcenko@asser.nl. Please note that only a limited number of places is available upon request and selection by the organisers.
Read more
The Asser Institute has a research project called 'The Global City: The Role of Law, Then and Now' within which four PhD researchers study the relevance of cities and processes within cities for development of legal concepts and norms through selected contemporary and historical examples.