[Last call] Deadline extended for Nuffic MENA Scholarship: Apply now for summer programme on countering terrorism and the rule of law
Published 17 March 2021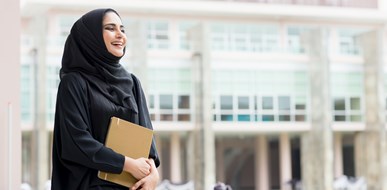 We are pleased to announce that the deadline for the Nuffic MENA Scholarship Programme (MSP) is extended to 30 March 2021. The T.M.C. Asser Instituut invites professionals to apply for a scholarship to attend our 2021 summer programme on countering terrorism and the rule of law. Women and/or professionals working at NGOs, in particular, are encouraged to apply.
With this scholarship, you can attend the Asser Institute (online) Advanced summer programme on terrorism, countering terrorism and the rule of law (31 August  – 3 September  2021) and a follow-up Masterclass on The modern foreign fighters phenomenon (15-16 November 2021). In the 11th edition of our unique and innovative training programme, you will get the latest insights from world-renowned experts in counter-terrorism. Topics in the course include: understanding extremism and radicalisation, countering the financing of terrorism, and prosecuting terrorism cases in practice.
As this scholarship opportunity concerns two different Nuffic scholarship programmes, we advise you to read the following information carefully:
Only young professionals, who are working in the area of security and rule of law and are nationals of - and living and working in -  Egypt, Iran, Iraq, Jordan, Libya or Morocco, can apply. For more information on the MSP scholarship, see here.
New deadline: 30 March 2021 at 16.00 CET
Before you start with your Nuffic application, please read the following important information:
Eligibility: Review the eligibility criteria carefully for the MSP.
Motivation: You are requested to answer three motivation questions in your application form, which should clearly indicate the link between your organisation and position, and the topic 'security and rule of law'. You will have to motivate your choice of course (e.g. the need for new knowledge and skills) in relation to problems or issues faced by your organisation; and you will have to describe how you are planning to put the newly acquired knowledge and skills to use.
Please be specific and base your answers on facts. We can provide advice, if necessary.
Employer statement: Make sure to check whether your employer is willing to nominate you for the scholarship. All applications must be supported by an employer statement, and only the prescribed Nuffic format (see here) will be accepted as a valid document (a French employer statement is also available here.) The employer statement indicates the relevance of the training to you as an employee, and to the organisation you work for.
Government statement: Some countries require applicants to further provide a government statement in support of your application. When required, please prepare this in advance, as this process could take a few weeks. See the Overview Government statements (for MSP) for more information.
The application procedure
You can register for the Nuffic scholarship ONLY via the links at the bottom of this page.
You will complete the registration form and upload the employer statement and a copy or your passport (as well as a government statement, if applicable). It is possible to save and continue the application process at a later time. You will receive a login code to re-access your form.
If your application meets all the course admission requirements and the MSP eligibility criteria, the Asser Institute can nominate you for a scholarship.
Nuffic and the Netherlands embassies will thereafter consider these nominations for funding. 
The scholarships will be awarded by Nuffic, to a selection of highly motivated professionals. Recipients are expected to introduce newly-acquired skills and knowledge to their employing organisation. The selection by Nuffic is final, and not subject to discussion and/or correspondence.
Nuffic scholarship registration links
for MSP scholarship (Egypt, Iran, Iraq, Jordan, Libya, Morocco) click here.
If you need more information or assistance with your application, please contact us educationtraining@asser.nl