'In search of judicial independence' – op-ed in Kathmandu Post by Shelter City Fellow
Published 18 December 2018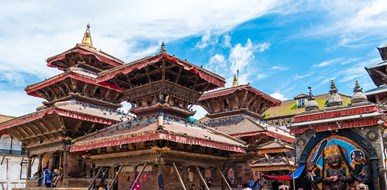 Human rights defender Mohan Kumar Karna, who was Shelter City Fellow with the T.M.C. Asser Instituut earlier this year, published an op-ed in the Kathmandu Post, calling for reform of the Nepalese judicial council.
After the introduction of the 2015 Constitution, Nepal emerged as a federal country, after having been a monarchy for 240 years. The Shah rulers had been practicing a centralised (also called: 'unitary') form of government, which was considered an 'exclusive' form of rule. The monarchy was formally abolished in the 5th amendment of the Interim Constitution of Nepal. It envisioned federalism as a prominent feature for a new Nepal.
While power at the executive and legislative level was transferred to the local, provincial and federal tiers, writes Karna in his op-ed, 'one significant arm of the government continues to remain non- federalised in federal Nepal:  the judiciary.' He believes the judiciary in Nepal is still centralised, 'as provincial governments have little say in fundamental judicial processes including the appointment of judges, reviewing disciplinary action and legislative coordination.'
Public debate
In his op-ed Karna calls for a wider public debate on the future structure of the Nepalese judicial council, and the process by which it appoints judges. 'It is essential to ensure that the transparency, accountability, competence, independence and fairness of the judges and the judiciary is maintained. Having (hopefully) learned from previous mistakes, the actors leading these discussions should ensure that no doors are closed; the public deserves to be a part of the discussion and should not be overlooked in the name of bureaucratic necessity.' Karna calls for a more inclusive judicial council, one that contains members representing the provinces, as well as all genders and ethnicities.
Shelter City Fellowship Programme
Shelter City Fellowship Programme is a project initiated by Justice and Peace Netherlands that provides temporary relocation and training to legal practitioners who fight against human rights violations in their home countries. The T.M.C. Asser Instituut hosts one Shelter City fellow per year for three to six months through its Asser Visiting Researcher Fellow Programme. Shelter City Fellows carry out research in the fields of international or European human rights law. In addition to working on their – often home country related – research project, human rights defenders contribute to the Institute's research by taking part in the regular activities of the Asser research community. They share the conclusions of their research with a wider public during lectures.
"By providing our knowledge and expertise, we hope to make a concrete and structural contribution to the development of expertise on international and European human rights law and to the circumstances of Human Rights Defenders while they stay at our institute.", says Janne Nijman, Academic Director of the Asser Institute. "We are grateful for this collaboration with Shelter City; we greatly value the knowledge and insights brought by the Shelter City researchers and human rights defenders to our institute."
Read more
Read the op-ed in the Kathmandu Post here.