'FIFA and Human Rights' symposium kicked off on Verfassungsblog
Published 4 July 2019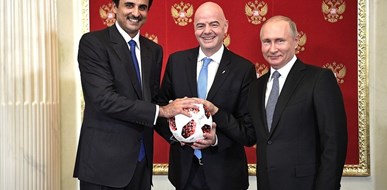 Today the Verfassungsblog kicked off a symposium on 'FIFA and Human Rights' in the framework of its long-term collaboration agreement with the Asser Institute. 
This symposium will feature eight blog posts each focusing on different issues related to FIFA and human rights. The blog posts are co-edited by Asser's senior researcher and head of the Asser International Sports Law Centre Dr Antoine Duval together with Daniela Heerdt (Tilburg Law School).
In the first blog post released today, Antoine Duval and Daniela Heerdt provide an overview of the main issues at the heart of the upcoming blog posts.
FIFA and human rights
As the football's global regulator, FIFA's decisions affect the life of many around the globe. Both large-scale FIFA events, such as the World Cup, and its daily activities have significant effects on human rights. It is all the more remarkable given that FIFA, legally speaking, is only a Swiss association, regulated in the same way as a local chess club would.
World-Cup related human rights risks range from labour and housing rights issues to restrictions of freedom of speech, freedom of movement, and public security concerns. For example, human rights defenders were severely silenced ahead of the Russia World Cup in 2018, and migrant workers in World Cup construction sites in Qatar have been faced with exploitative and abusive working conditions.
FIFA's transfer rules have also come under increased scrutiny, as football intermediaries engage in trafficking like practices of child footballers.
Scrutinising FIFA's human rights reforms
In response to various concerns, FIFA has made important advances to better protect human rights in its operations. New bidding regulations were adopted in October 2017. FIFA also created a Human Rights Advisory Board, and introduced a complaint mechanism for human rights defenders in May 2018. The
'FIFA and Human Rights' symposium also seeks to critically engage with these policies. This symposium stems from a conference on FIFA and human rights hosted by the Asser Institute in May.
The Asser Institute is organising ISLJ Annual International Sports Law Conference 2019 this October.
Dr Antoine Duval is head of the International Sports Law Centre at Asser, which is part of the Asser research strand on Advancing Public Interests in International and European Law. This research strand aims to critically examine how International and European law may further the protection of public interests in a globalising (and privatising) world.