[New blog post] Including the arms sector in the EU Corporate Due Diligence Directive
Published 22 May 2023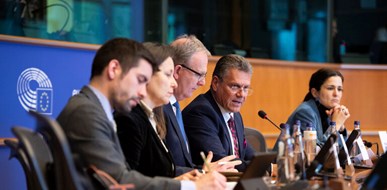 In a new blog post for Verfassungsblog, León Castellanos-Jankiewicz and Melanie Schneider highlight the accountability deficit in the current European arms export regime. The authors show how the EU Corporate Sustainability Due Diligence Directive could help redress this situation while preventing trafficking and diversion.  
The imminent passage of the EU Corporate Sustainability Due Diligence Directive (CSDDD) into law could drastically change the regulatory makeup of the arms industry in Europe. As the EU Parliament, Commission and Council prepare to enter the so-called 'trilogues' to adopt a final text, it remains an open question whether they will include the arms sector within the scope of the Directive.   
If so, the resulting provisions could include corporate due diligence obligations for downstream elements of the value chain, thus reinforcing monitoring and accountability, write León Castellanos-Jankiewicz and Melanie Schneider, who both work at the Asser Institute. 
Top arms exporters in the EU 
Four of the top ten arms exporters worldwide are EU member states. France is the third-largest, accounting for an estimated 11% of global arms sales during the period 2018-2022. It is followed by Germany, Italy, and Spain, which together represented 10.6% of sales during the same time frame. Taken together, these EU countries account for over one-fifth of arms exports worldwide.  
As weapons sales increase exponentially, the United Nations (UN) considers that civilian firearms holdings are a general risk of diversion by casual loss, theft or illegal transfer. Indeed, only 12% of the approximately 857 million civilian arms held worldwide are registered. Additionally, the UN's Global Study on Arms Trafficking 2020 identified Europe as a "major departure point" for illicit flows. 
Alarmingly, European weapons and their components are constantly found in conflict zones and at-risk areas where war crimes, crimes against humanity and serious human rights violations are taking place. For example, a recent report has identified European firms from Germany, Austria and France as supplying Myanmar's military junta with materials to produce weapons while circumventing sanctions. Worse still, European arms exports could be contributing to the commission of war crimes in Yemen and Ukraine. Incorporating downstream due diligence obligations in the CSDDD would tackle irresponsible arms sales and improve oversight.  
The accountability deficit 
Current EU laws contain no mandatory rules for EU Member States to provide public data on the import or export of firearms, or on revenues and expenditures under these headings. Nor do they require compulsory end-user controls in the case of exports, which would allow third parties to verify whether the weapons reached their intended destination. 
UN experts have found that, in examining several cases against European-issued licenses, EU member states often appear to disregard their obligations towards the EU Common Position on Arms Exports and the Arms Trade Treaty.  According to the authors, this creates a general and widespread lack of access to justice and transparency that is perpetuated by a lack of oversight, regulation and due diligence obligations over the production, usage, export and disposal of European-manufactured weapons. 
Secrecy
Moreover, the European arms industry enjoys protections in many jurisdictions, including secrecy for licensing and export agreements through state-approved national security or foreign policy exceptions. Therefore, judicial remedies for victims of gun violence perpetrated with products exported based on negligent sales are alarmingly deficient. These exceptions have jeopardised the right to a remedy to which survivors of gun violence are entitled, including under domestic and international human rights law. 
The blog post's authors highlight how the passage of the EU Corporate Sustainability Due Diligence Directive into law could contribute to improving the regulatory landscape by incorporating downstream activities of the firearms industry within its scope. This would encompass the distribution, retail, use and disposal of firearms. Victims and survivors would also benefit from robust provisions on remedies for damages caused by direct and indirect business partners. 
About the authors 
León Castellanos-Jankiewicz is researcher at the Asser Institute and currently supervises the International Law Clinic on Access to Justice for Gun Violence at the University of Amsterdam. 
Melanie Schneider is a research intern at the T.M.C. Asser Institute in The Hague, Netherlands, and an LL.M. graduate of the University of Amsterdam in International and European Law. 
They are both part of the research strand 'In the public interest: accountability of the state and the prosecution of crimes', which examines the accountability of states in light of public interest standards in the context of counterterrorism; and the prosecution of individuals for international and transnational crimes in the public interest. To ensure the accountability of the state and the prosecution of individuals, this strand also investigates the role of journalists, the (new) media, human rights NGOs and academics in protecting and promoting public interest standards. 
Read more 
[Interview] León Castellanos-Jankiewicz: 'Mexico is serious about making the US gun industry accountable for the damages caused with their products' 
Asser Institute researcher León Castellanos-Jankiewicz is actively following the Mexico v. Smith & Wesson litigation, initiated by Mexico against six U.S. gun manufacturers, a potentially game-changing case for gun control. Castellanos-Jankiewicz: 'The outcome of this case could not only benefit Mexico but all countries in Central America that are suffering from gun violence.' An interview.