The Asser Institute Successfully Wraps up its First International Lawyering in a Public Interest Summer Programme
Published 30 July 2018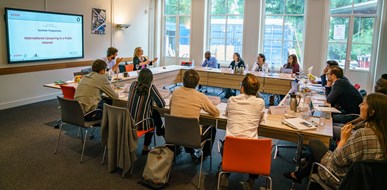 We are pleased to have successfully wrapped up our first summer course on International Lawyering in a Public Interest (ILPI). The course attracted a diverse group of participants, from practitioners to academics, NGO workers to advocates, and students to seasoned professionals, coming from four continents. The course featured an intensive week of engaged learning, with exposure to the strategic choices made in real, current cases by leading practitioners.
Participants learned new opportunities for networking, novel means of pursuing public interests with international law, and the challenges faced by advocates for public interest projects with international law. Participants and lecturers alike also reflected critically on our own practices and the hazards of advocacy in situations of conflict.
Here are some participant testimonies highlighting what they took away from the programme:
As we wrap up #AsserILPI18 summer pogramme, some participants share their experience and learning outcomes. @joannaucd19 from Ireland recognises the boundaries and opportunities in international law. #litigation #law #advocacy pic.twitter.com/W9XHPjMOxd

— TMC Asser Instituut (@TMCAsser) 13 July 2018
#AsserILPI18 participants @zeenat_islam from the #UK and @SechiePhilip from #Nigeria talk about how the programme broadened their view on how #humanrights can be enforced & confirmed the idea that law can be a useful tool for social change. pic.twitter.com/yPQnE8dkml

— TMC Asser Instituut (@TMCAsser)

 

13 July 2018
The ILPI programme is part of the Asser Institute's commitment to combining research and practice in support of public interests. We look forward to future programmes offering first-hand exposure, hands-on learning, and critical reflection on cutting-edge developments in international public interest advocacy.