[New publication] Addressing human rights abuses at mega-sporting events—A shared responsibility in theory and practice
Published 24 April 2023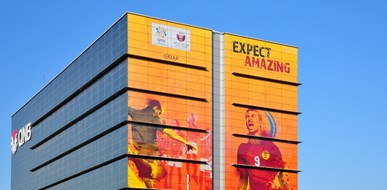 In a new article published in Frontiers in Sports and Active Living, Daniela Heerdt explains the shared responsibility approach as a way to address the various adverse human rights impacts of mega-sporting events. Daniela highlights that mega-sporting events (MSEs) have great potential to promote human rights and be a force for good, but that these events are also frequently linked to human rights abuses.
Millions displaced for sporting events
While displacements do not always result in human rights violations, in their fact sheet on the human right to adequate housing, the United Nations Office of the Commissioner of Human Rights indicates that they often do in case of organising mega-sporting events. The scale of these displacement is also immense. According to a report by the Centre on Housing Rights and Evictions, the Olympic Games in Seoul, Barcelona, Atlanta, Sydney, Athens, Beijing, and London resulted in 2 million people displaced or forcefully evicted due to construction projects.
Exploitation of migrant workers
The human rights issues related to the migrants building the infrastructure for the Qatar World Cup have received widespread attention in the media. It is a prime example of a case of structural human rights issues present in a certain host country or city and the hosting of the respective event facilitating the  abuses taking place. The human rights abuses suffered by the workers were not unique to the World Cup, and other mega-sporting events have been linked to similar labour rights abuses.
 A role for sport governing bodies and organisers
Daniela argues that there is a role for sport governing bodies and organisers in addressing human rights abuses related to the events and that sharing responsibility is a plausible option. Organisers and sports bodies usually have a quite clear understanding of the different tasks and responsibilities related to staging an event, therefore it could be a matter of adding the human rights dimension to those responsibilities.
The sport and human rights movement is already underway with different international sports bodies adopting human rights strategies and including human rights provisions in event bidding and hosting regulations. However, there is still a question of effectiveness in practice. More scientific research approaches are needed to understand critical questions such as how events can be used to promote human rights, which safeguarding policies and procedures are effective, or which remedy mechanisms work for sport-related human rights abuses.
Read the full article in Frontiers in Sport and Active Living.
Interested in learning more about the interplay between sport and human rights?
Our unique training programme jointly organised by the Centre for Sport and Human Rights and the Asser Institute and hosted by FIFPRO focuses on the link between sport and human rights. Register here to learn more about a number of challenges underlying this link, such as the human rights impacts of day-to-day sports, the rights of athletes, gender and sports, remedies for sport-related human rights harms, the normative framework and applicability of the UNGPs in the sporting context, and more.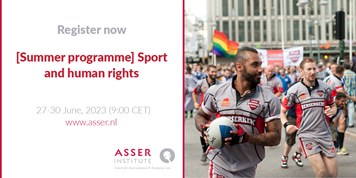 Dr Daniela Heerdt