[Book launch] The ecology of war and peace: Marginalising slow and structural violence in international law
24 June 2022
Starts at:

16:00h

Venue:

T.M.C. Asser Instituut, R.J. Schimmelpennincklaan 20-22 2517 JN The Hague
The connection between ecology and conflict has been the object of extensive study by political scientists and economists. From the contribution of natural resource 'scarcity' to violent unrest and armed conflict; to resource 'abundance' as an incentive for initiating and prolonging armed struggles; to dysfunctional resource management and environmental degradation as obstacles to peacebuilding, this literature has exerted a huge influence upon academic discussions and policy developments. While international law is often invoked as the solution to the socio-environmental challenges faced by conflict-affected countries, its relationship with the ecology of war and peace remains undertheorised. Drawing upon environmental justice perspectives and other theoretical traditions, the book unpacks and problematizes some of the assumptions that underlie the legal field. Through an analysis of the practice of international courts, the UN Security Council, and Truth Commissions, it shows how international law silences and even normalizes forms of structural and slow environmental violence.
Panel
The panellists are Judge Hilary Charlesworth (ICJ), Dr Sofia Stolk (Asser), and Dr Marie-Catherine Petersmann (Tilburg).
Moderated by Professor Ingo Venzke (UvA)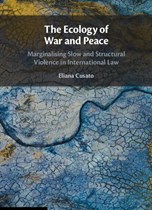 Eliana Cusato's new book will be launched at the Asser Institute
Programme
16.00-17.00: Panel discussion and reply by the author
17.00-17.30: Q&A and general discussion
17:30: Drinks
About the author
Eliana is a Marie Skłodowska-Curie postdoctoral research fellow at the Amsterdam Center for International Law (ACIL). Her research explores the interrelation of political ecology/economy, violence, and conflict in the theory and practice of international law. She is interested also in legal questions raised by the unequal distribution of natural resources, environmental justice, and human rights and global extractivism. She is the author of The Ecology of War and Peace: Marginalising Slow and Structural Violence in International Law, published in September 2021 with Cambridge University Press.
She holds academic qualifications from the National University of  Singapore (Ph.D.), where she was a recipient of the NUS Doctoral Research Scholarship, and Catholic University of Milan (LL.B and LL.M). She was a visiting researcher at the Lauterpacht Centre for International Law, University of Cambridge, and the Grotius Centre for International Legal Studies, Leiden University. She is a member of the editorial board of the Asian Journal of International Law and of the Global Network for the Study of Human Rights and the Environment (GNHRE)
Prior to joining ACIL, Eliana was a lecturer at Essex Law School (UK), where she taught public international law and human rights law. Before entering academia, she practiced as a lawyer in Milan specialising in white collar and environmental crimes; interned at the International Criminal Court; and worked as a Legal and Policy Officer at the Siracusa International Institute for Human Rights and Criminal Justice.