[Book launch] Seminar on interdisciplinary approaches to make sense of legal practices and discourses in international law
02 June 2022
Starts at:

14:00h

Fee:

Free

Venue:

T.M.C. Asser Instituut

Organiser:

T.M.C. Asser Instituut and VU Amsterdam

Address:

R.J. Schimmelpennincklaan 20-22
2517 JN The Hague
Netherlands
Asser Institute and VU Amsterdam are jointly organising a seminar on monographs by Lianne Boer, Sofia Stolk, and Wouter Werner on 2 June at 14:00.
This seminar launches three recently published books:
Lianne Boer, International Law as we Know It: Cyberwar Discourse and the Construction of Knowledge in International Legal Scholarship (Cambridge University Press 2021);
Sofia Stolk, The Opening Statement of the Prosecution in International Criminal Trials: A Solemn Tale of Horror (Routledge 2021);
Wouter Werner, Repetition and International Law (Cambridge University Press 2022).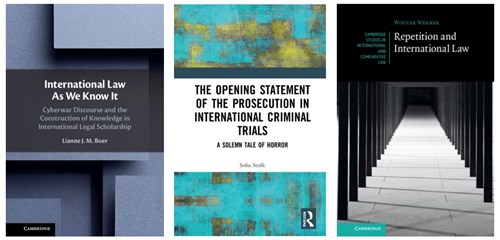 The three books grew out of cooperation between researchers at the Asser Institute, The Hague and the Vrije Universiteit, Amsterdam. While different in topic, style and method, they share an interest in themes such as aesthetics, style, narration and the power of the irrational in international law. All three books, therefore, take excursions to other disciplinary fields in order to make sense of legal practices and discourses in international law.
It is impossible to discuss three complete books in one seminar. It would also be boring. Therefore, we have invited three discussants to do something else. Instead of discussing the books as they have been written, we asked them to focus on the future: what, if anything, could these books mean in terms of new research questions, new directions and approaches of making sense of international law?
Program and speakers
14.00-14.30 Sarah Nouwen (European University Institute, Florence)
14.30-15.00 Katja Freistein (Centre for Global Cooperation Research/University Duisburg-Essen)
15.00-15.30 Ingo Venzke (University of Amsterdam)
15.30-16.00 Break
16.00-17.00 General discussion
17.00 Drinks
Chaired by Geoff Gordon (Asser Institute)
Registration
If you wish to attend, please send an email to Sofia Stolk.