Summer Law Programme on International Criminal Law and International Legal & Comparative Approaches to Counter-Terrorism
28 May - 21 June 2018
Starts at:

09:00h

Fee:

€1.590 full or or €795 2 weeks programme

Venue:

T.M.C. Asser Instituut

Organiser:

T.M.C. Asser Instituut and Washington College of Law
Are you interested in international criminal law and (legal aspects of) counter-terrorism? Are you looking for an opportunity to expand your knowledge of these issues?
Then join the 12th Annual Summer Law Programme on International Criminal Law and International Legal & Comparative Approaches to Counter-Terrorism in The Hague! The Programme takes place from 28 May - 21 June 2018.

This Summer Law Programme is the product of a unique collaboration between the War Crimes Research Office of American University's Washington College of Law and the T.M.C. Asser Instituut. Forty selected students from top US law colleges and universities will travel to The Hague to learn from international legal practitioners and scholars and to see their knowledge being put to practice through visits to (inter)national courts and institutions. Additional ten places are available to other interested law students and professionals who wish to register. 

What will you gain?
A unique experience of studying and exchanging views with students from the US;
A multilateral approach to the interplay between international criminal law and legal aspects of counter-terrorism;
The opportunity to engage in discussions and network with leading academics and legal professionals.
Programme
International Criminal Law 
The first two weeks explore the past, present and future of international criminal law (ICL), both substantially and practically. The programme provides a comprehensive overview of international crimes, criminal responsibility, immunities and amnesties and practical matters surrounding ICL, such as victim participation and defence issues. Additionally, the participants will explore the issue of state responsibility in ICL, including addressing questions such as to what extent immunities of State officials can provide for a prosecution bar within the international courts.
During these two weeks, the participants will also have the opportunity to visit the international and national courts and international organisations to experience the law in practice.
International Legal & Comparative Approaches to Counter-Terrorism 
The second part of the summer programme focuses on international legal & comparative approaches to counter-terrorism. Especially since 9/11 the world is witnessing a large expansion of approaches and measures to counter-terrorism. The course will begin by looking into the definitions of terrorism and counter-terrorism, and their evolution since 9/11. Moreover, the participants will explore the jus ad bellum and jus in bello in counter-terrorism, as well as the role of human rights law including case studies on the use of armed drones and extraordinary renditions. Other topics will be addressed as well, to ensure a comprehensive understanding of (legal aspects of) counter-terrorism. These include the question of how the international, regional and national level tackle the issues of terrorism and foreign fighters through (international) prosecution. Moreover, the role of intelligence in court, countering violent extremism, and rehabilitation and reintegration will also be addressed. Finally, through study visits, the participants will experience (legal approaches to) counter-terrorism in practice.


To view the full programme click here. 
It is possible to only attend one of the two programmes (International Criminal Law or International Legal & Comparative Approaches to Counter-Terrorism). Should this be the case, please include your preference in the registration form.
Confirmed Speakers (among others) include:
        

Judge Alphons Orie, UN Mechanism for International Criminal Tribunals (MICT)    

        

Larissa van den Herik, Vice Dean and Professor of Public International Law, Leiden University

        

Judge Christine Van Den Wyngaert, Kosovo Specialist Chambers & Specialist Prosecutor's Office; previously, Judge, International Criminal Court (ICC)

        

Paolina Massidda,

Principal Counsel of the Office of the Public Counsel for Victims, International Criminal Court (ICC)

        

Judge David Baragwanath,

Judge, former President, Special Tribunal for Lebanon (STL)

        

Prof. Dr.Tom Ruys,

Professor

of Public International Law,

University of Ghent

 

        

Joanne Mariner,

Interim Director of Law and Policy at Amnesty International

        

Judge Kimberly Prost, International Criminal Court (ICC)

        

Dr.

Bibi van Ginkel, Senior Research Fellow Clingendael Institute & International Centre for Counter-Terrorism - The Hague (ICCT)
Study Visits
The lectures are complemented with a number of study visits to (inter)national courts and organisations based in The Hague.

Study visits in 2018 will include:
Who should participate?
(Advanced) students and early-career professionals who are interested in studying international criminal law and/or (legal aspects of) counter-terrorism.
Application
Please read the Registration Information & Conditions carefully before registration. 
Fee 
€ 1590 (full course)
€ 795 (2 weeks programme)

This fee includes lectures, study materials, study visits, water/tea/coffee, a reception and an opening dinner. 
The fee does not cover (international) travel costs, travel to and from airports, (hotel) accommodation, insurance or other expenses. The T.M.C. Asser Instituut can provide participants with a list of suitable hotels in The Hague.

Contact
For more information or questions on the programme visit this link or please contact educationtraining@asser.nl.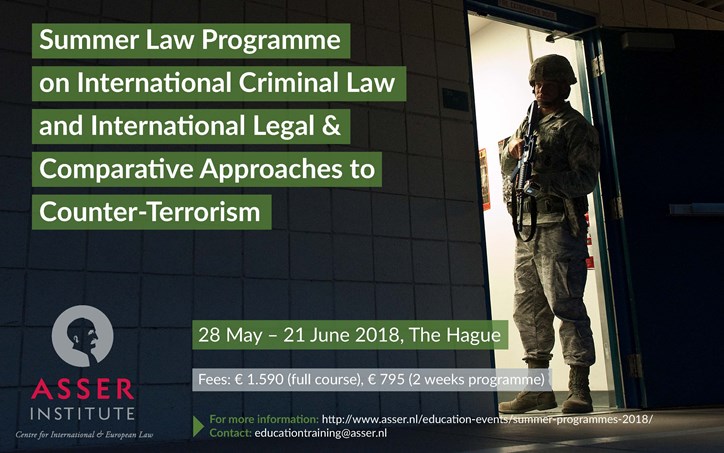 ·         Judge Alphons Orie, UN Mechanism for International Criminal Tribunals (MICT)    
·         Larissa van den Herik, Vice Dean and Professor of Public International Law, Leiden University
·         Judge Christine Van Den Wyngaert, Kosovo Specialist Chambers & Specialist Prosecutor's Office; previously, Judge, International Criminal Court (ICC)
·         Paolina Massidda, Principal Counsel of the Office of the Public Counsel for Victims, International Criminal Court (ICC)
·         Judge David Baragwanath, Judge, former President, Special Tribunal for Lebanon (STL)
·         Prof. Dr. Tom Ruys, Professor of Public International Law, University of Ghent 
·         Joanne Mariner, Interim Director of Law and Policy at Amnesty International
·         Judge Kimberly Prost, International Criminal Court (ICC)
·         Dr. Bibi van Ginkel, Senior Research Fellow Clingendael Institute & International Centre for Counter-Terrorism - The Hague (ICCT)