Art and International Justice: Sounds, Design, Visuals
16 October 2019
Starts at:

17:15h

Fee:

Free

Venue:

T.M.C. Asser Instituut

Organiser:

ARTIJ Initiative, the Imagining Justice project, and the Asser Institute.

Address:

R.J. Schimmelpennincklaan 20-22
2517 JN The Hague
Netherlands
In this event, we explore the relationship between art and international justice from different angles: sounds, design and visuals. By bringing together lawyers, artists, musicians and architects we invite for an (ex)change of perspectives and open a dialogue about the mutual interests of these different disciplines.
The evening includes performances by musicians André Mucs and Daniëlle Uriël who link their music to processes of reconciliation. Marina Aksenova, co-founder and director of the Art and Justice Initiative (ARTIJ) will present her views on the role of art in international justice. Otto and Victor Spijkers will reflect on the architectural design of ad hoc tribunals and the potentially sustainable function of these buildings in post-conflict reconstruction and transitional justice.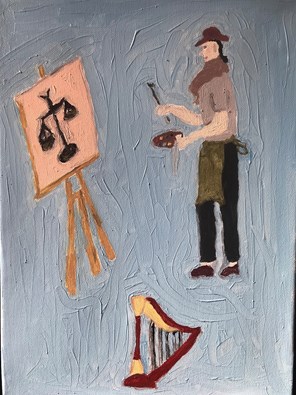 Next to musical performances, presentations and a round-table we will present an exhibition with artworks that engage with a case brought before the International Court of Justice by the Marshall Islands against the nuclear powers. In their works, the artists reflect on themes of inequality, the law v. justice dilemma and the destruction of life. After the plenary programme we invite the audience to visit the exhibition. 
Programme
17:00 Registration
17:15 Music by André Mucs
17:25 Welcome by dr. Sofia Stolk (Asser Institute)
17:30 The Role of Art in International Justice – dr. Marina Aksenova (ARTIJ)
18:00 Designing A More Perfect Ad Hoc International Criminal Tribunal­ – Otto Spijkers (international lawyer at Utrecht University) and Victor Spijkers (architect) + brief response by Mistale Taylor
18:30 Roundtable Art, Music and International Justice with artists Alexandra Arshanskaya, Evangelos Kalogeropoulos, Brigitte Spiegeler and musicians André Mucs and Daniëlle Uriël
19:15 Music by Daniëlle Uriël and live drawing by Alexandra Arshanskaya
19:30 Closing words, reception
Contributors: 
Marina Aksenova is Director of Art and International Justice Initiative (ARTIJ), Professor of Comparative Criminal and International law at IE University in Madrid and Global Research Fellow at iCourts in Copenhagen.
Alexandra Arshanskaya is an artist working in different visual media including painting, drawing, and performances. Since 2011, she expanded her practice into an investigation of painting and drawing as a live performance.
Evangelos Kalogeropoulos studied Graphic Art & Design at TEI of Athens and Painting and Engraving at The Athens School of Fine Arts ( ASFA). Until August 2015 he was living and working in Athens, taking part in many exhibitions in Greece and abroad. Since September 2015 he lives and works in The Hague. His art studio is in Leidschendam, where he paints and gives art lessons.
Brigitte Spiegeler is a Dutch artist who graduated in fine arts from the Royal Academy of Arts, The Hague (The Netherlands) in 2008. For her art works she uses a variety of techniques, such as photography, painting, ceramic and installation.
Victor Spijkers is an Amsterdam based registered architect. His main areas of work are large scale residential and public buildings.
Otto Spijkers is lecturer of public international law at Utrecht University and guest lecturer for Amnesty International.
Sofia Stolk is a researcher at the T.M.C. Asser Instituut where she runs the 'Imagining Justice' project.
André Mucs born in Holland is a musician, specialized in West-African percussion. André practices as a drumming teacher, street musician, and organises performances to promote the complex beauty of African rhythms.
Daniëlle Uriëll is a haptotherapist and a musician. She plays the Celtic harp and sings. She has played in many places, with fellow musicians from across the globe.
Mistale Taylor is a Senior Research Analyst at Trilateral Research, where she conducts research into law, technology, ethics and society for ongoing projects.  
Read the contributor's full bios here. 
About ARTIJ
'Art and International Justice Initiative' (ARTIJ) brings together art with international justice. It connects academics, artists, legal practitioners, policy makers and civil society actors wishing to explore the role of arts in the understanding of international justice. ARTIJ aims to complement international justice research and practice with artistic exercise, while connecting the two different worlds.
About Imagining Justice
The Imagining Justice project explores how the fields of visual art and international law can interact and stimulate each other in thinking about the contemporary dilemmas of the globalising world, and deepen our understanding of international law's opportunities, challenges and alternatives. The platform aims to bring the fields together to exchange idea and to stimulate reflection, to (re)discover relevant questions and issues and to 'see anew' one's own preconceptions and biases.
The event is co-organised by the ARTIJ Initiative and the Imagining Justice project at the Asser Institute and is part of the Hague Courts Dialogue Series.