Hong Kong's ambiguous human rights discourse
Published 8 October 2018
By Lisa Roodenburg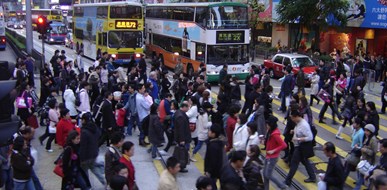 Hong Kong can be considered a typical global city. It is an economic centre where flows of goods, services, and people converge, and thus where different ideas and worldviews exist as well. When looking at Hong Kong's local legislation, the norms of international human rights law have a visible role. Hong Kong's Basic Law and Bill of Rights Ordinance facilitate the direct working of the International Covenant on Civil and Political Rights. In addition, fifteen United Nations Human Rights treaties apply to Hong Kong. As part of my research, I visited the city over the summer. I observed that despite Hong Kong's image and commitment to the treaties, in practice, human rights language is actually quite invisible, and in some cases provocative. This leads to the question: When is engagement with human rights visible and when is it not?  
Seven of the fifteen treaty bodies that apply to Hong Kong require a reporting process. This is the period when the government and civil society are most explicitly speaking about human rights in the public sphere. The government of Hong Kong asks a quite large number of civil society organisations to contribute written and oral input, and the human rights situation is discussed in Hong Kong's legislative council. Although the actual reports are often criticised for not reflecting these debates, civil society does play a big role in these discussions. Even the civil society organisations that are not invited by the government to contribute will upload their written input and critiques online. This is an opportunity for civil society to frame local problems as human rights issues.
In other instances framing problems as human rights matters are not that common. When civil society organisations -of which many identify themselves as human rights organisations- address the local government using human rights language, it can lead to a moot conversation and shut the door on dialogue. For instance, when trying to discuss the living situation of refugees in Hong Kong, it can be strategic for civil society organisations not to refer to the human rights situation of these refugees, as more subtle language is more effective. On the other hand, if a civil society organisation manages to bring a local problem to a UN body, then human rights language can have its intended effect on the local government as a result of international pressure. 
In Hong Kong, a different kind of language is used. Concepts such as fairness and equality come close, but do not entail the 'strict' notion of rights. An example is Hong Kong's Equal Opportunities Commission, which is the organ that is most similar to a local human rights office. The Equal Opportunities Commission is founded on the basis of four discrimination ordinances, all of which do not refer to international human rights treaties. The Equal Opportunities Commission is promoting equality, handling individual complaints and is in a position to start legal procedures against governmental offices. Where I would automatically link such responsibilities to human rights language, the Equal Opportunities Commission deliberately does not. While the moral values of human rights might play a role in constructing aims and objectives, human rights are not used as a negotiation tool on the ground.
Critical scholars and civil society members argue that in order to maintain its status as a global economic centre, Hong Kong needs presence on the global stage. That includes showing commitment to international human rights treaties. On the ground, this is translated differently. Human rights can become quite invisible, yet they influence debates without being explicitly named.