On Citizenship in Wintery Warsaw
Published 7 December 2017
By Julia van der Krieke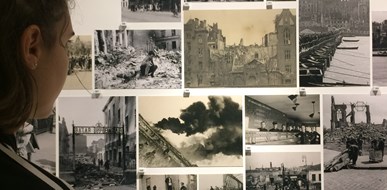 On 15 November, 2017, I spoke at the Seventh International Conference for Jewish Studies Researchers at the Institute of History, University of Warsaw. I shared the aims and larger questions of my research, touched upon citizenship for Jewish immigrants in the Amsterdam of 1600 and explained the different source types I use.
I told the stories of several seventeenth century Portuguese Jews in the early days of their settlement in the Dutch Republic. One of them is Simão, a man who was protected by an Amsterdam burgomaster abroad as a respected citizen, and honorable man, despite his foreign or Jewish background. I told the story of a difficult love affair between a Portuguese man from the Jewish community and a Dutch girl who gave birth to two of his children, but was not allowed to marry him, and about the Portuguese girl who did. These interactions took place at the same time that Portuguese Jews of early modern Amsterdam were negotiating their legal rights with Dutch city authorities.
The panel on cities consisted of myself, Maya Hultman (University of Southampton), who spoke about the urban spatiality of Jews in Stockholm at the turn of the twentieth century, and Tanya Silverman (Charles University Prague) who spoke on Holocaust violence and commemoration in Budapest. All three dissecting a city's Jewish history, in different times and different spaces. The conference suited as a platform to share ideas regarding our researches. All seventy presentations were given by young researchers doing a Masters or PhD related to Jewish Studies in Poland, Ukraine, Russia, Hungary, the Netherlands, Germany, Sweden, Israel and so on. There were talks on homosexuality within Judaism, Zionism, Jewish Pilgrimage, youth movements, integration and Jewish-Christian relations, the Holocaust and more.
Poland's Relevant Background
Warsaw was the perfect setting for such an event, Poland harboring a thousand years of Jewish heritage and culture. What did citizenship mean for medieval Polish Jews or early modern Jews or even modern Jews when history commonly speaks of a country with Poles and Jews, rather than Polish Jews? The city was thirty percent Jewish until the beginning of the Second World War, now almost without a Jewish population, but with a large new Jewish Museum (Polin) on the spot where the Warsaw ghetto stood, as a contrast to signs of anti-Semitism and growing nationalism in Polish society today. Warsaw was once as multi-cultural as our conference. Is the faculty of Jewish Studies today a small rebellious island in a more conservative red and white sea? One can only hope that the island will grow to keep the memory of Polish Jewish life alive, in all its diversity and colors, and that all citizens will be treated as citizens.