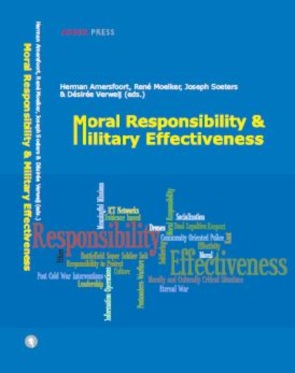 Moral Responsibility & Military Effectiveness
2013
Order
Details
Published:

2013

Pages:

V + 300 pp.

Publisher:

T.M.C. ASSER PRESS

Distributor:

T.M.C. Asser Press
ISBN:

978-90-6704-345-8

Price:

€ 25.00
The missions of armed forces are required to be effective. Thus missions are oriented to objectives that help prevent, contain or solve problems. A soldier, for example, who skillfully neutralizes his or her target is not effective when the problem is not prevented, contained or solved. Political, legal and moral awareness is important to the soldier, because doing things right is not the same as doing right or rightful things. The soldier wishes to avoid unlawful orders, but also tries to avoid casualties among non-combatants. Normally responsibility lies with higher authorities, but the fact remains that the soldier is the one who pulls the trigger. It is not simply a matter of veering between two evils, because a mission that is without moral grounds should not have been initiated in the first place and when pursued against better judgment it will probably lose effectiveness in the end. It is impossible to make compromises here. But it is also not possible to foresee all the consequences of military action, and unanticipated consequences can easily backfire. Dilemmas are bound to occur when the soldier is caught up in blurred conflict situations. This volume tries to add to our understanding of the problem of creating and maintaining a balance between effectiveness and moral responsibility.
Professor dr. Herman Amersfoort is professor of Military History at Amsterdam University and at the Netherlands Defence Academy (Faculty of Military Sciences).
Dr. René Moelker is associate professor of Sociology at the Netherlands Defence Academy (Faculty of Military Sciences).
Professor dr. Joseph Soeters is Professor of Management and Organisation Studies at the Netherlands Defence Academy and Tilburg University, and Chair of the Department of Management, Organisation and Defence Economics (Faculty of Military Sciences).
Professor dr. Désirée Verweij is professor of Philosophy and Ethics at the Netherlands Defence Academy and at the Centre for International Conflict Analysis and Management (CICAM) of the Radboud University Nijmegen.
Available from T.M.C. Asser Press via the order button at the top of this page and from official (internet) booksellers
Verkrijgbaar bij T.M.C. Asser Press via de order button hierboven en bij de erkende (internet) boekhandel
Available for download