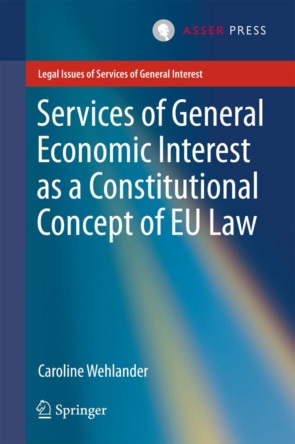 Services of General Economic Interest as a Constitutional Concept of EU Law

Series: Legal Issues of Services of General Interest
June 2016
Order
Details
Published:

June 2016

Pages:

xvi + 374 pp.

Publisher:

T.M.C. ASSER PRESS

Distributor:

Springer
This book offers a legal understanding regarding the core elements of SGEI (Services of General Interest), and of how the post-Lisbon constitutional framework on SGEI affects the application of the EU market rules by the EU Court of Justice, including procurement rules, to public services. It is built up of three parts, namely Part I: No Exit from EU Market Law for Public Services, Part II: SGEI as a Constitutional Voice for Public Services in EU Law, and Part III: Part III The Cost of Loyalty, the Relationship Between EU Procurement and State Aid Legislation on Social Services and the Treaty Rules on SGEI, ending with a case study of Swedish systems of choice.
Analyses are also provided on how the EU legislator engages in the Europeanisation of social services through EU procurement and state aid rules that have an ambiguous relationship to the Treaty framework on SGEI. Some explanation to this ambiguity is proposed by studying how the application of EU state aid rules could hinder the development of Swedish systems of choice liberalizing publicly-funded elderly care and school education.
Included are propositions on crucial but yet unsettled legal questions, in particular what the legal meaning and relevance of the notion of economic activity in EU market law are and which core elements characterize SGEI. This book is therefore mainly aimed at legal academics and practitioners but may also be of interest to political scientists.
Caroline Wehlander studied at Umeå University and holds the title of Doctor of Laws. She lives and works in Sweden.
Specific to this book:
Clarifies the legal meaning of the notion of economic activity in EU law
Provides a detailed study of the EU concept of SGEI, based on an in-depth analysis of the case law of the Court of Justice of the European Union
Analyses the relationship between the SGEI framework in the EU Treaties and EU procurement and state aid legislation adopted in 2011-2012 and applying to social services
The Legal Issues of Services of General Interest Series
The aim of the series Legal Issues of Services of General Interest is to sketch the framework for services of general interest in the EU and to explore the issues raised by developments related to these services.
Available for download

Frontmatter, incl. Table of Contents