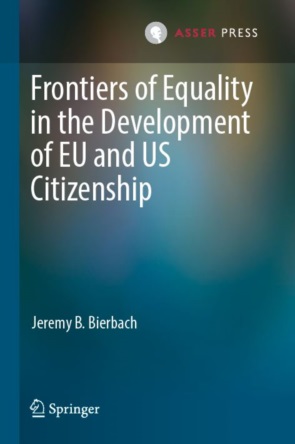 Frontiers of Equality in the Development of EU and US Citizenship
February 2017
Order
Details
Published:

February 2017

Pages:

xi + 474 pp.

Publisher:

T.M.C. ASSER PRESS

Distributor:

Springer
This book provides a framework for comparing EU citizenship and US citizenship as standards of equality. If we wish to understand the legal development of the citizenship of the European Union and its relationship to the nationalities of the member states, it is helpful to examine the history of United States citizenship and, in particular, to elaborate a theory of 'duplex' citizenships found in federal orders. In such a citizenship, each person's citizenship is necessarily 'layered' with the citizenship or nationality of a (member) state. The question this book answers is: how does federal citizenship, as a claim to equality, affect the relationship between the (member) state and its national or citizen? Because the book places equality, not allegiance to a sovereign at the center of its analysis of citizenship, it manages to escape traditional analyses of the EU that measure it by the standard of a sovereign state. The text presents a coherent account of the development of EU citizenship and EU civil rights for those who wish to understand their continuing development in the case law of the Court of Justice of the European Union.
Scholars and legal practitioners of EU law will find novel insights in this book into how EU citizenship works, in order to be able to grasp the direction in which it will continue to develop. And it may be of great interest to American scholars of law and political science who wish to understand one aspect of how the EU works as a constitutional order, not merely as an order of international law, by comparison to their own history.
Jeremy Bierbach is an attorney at Franssen Advocaten in Amsterdam. He holds a Ph.D. in European constitutional law from the University of Amsterdam, the Netherlands.
Specific to this book:
provides a framework for comparing US citizenship and EU citizenship as standards of equality;
explains in detail the legal implications of allegiance to a sovereign in order to show why allegiance is not the most important aspect of citizenship;
develops its analysis chronologically, over more than 400 years, but allows the reader to open the book at any point, providing references 'supra' to previously reached conclusions
Excerpt from a book review:
(...) this book provides an impeccable overview of the constitutional histories of US and EU citizenship, and it also makes a fresh and welcome contribution to the comparative analysis of US and EU citizenship from a distinctively vertical theoretical perspective. I therefore warmly recommend Bierbach's book to readers who are interested in the comparative study of these two "duplex citizenships", as well as to anyone who would like to revise their knowledge of the key cases and constitutional developments around US and/or EU citizenships from a historical perspective.
- Päivi Johanna Neuvonen, University of Helsinki
Published in: (2018) 43 E.L. Rev. August © 2018 Thomson Reuters and Contributors
Available for download

Frontmatter, incl. Table of Contents