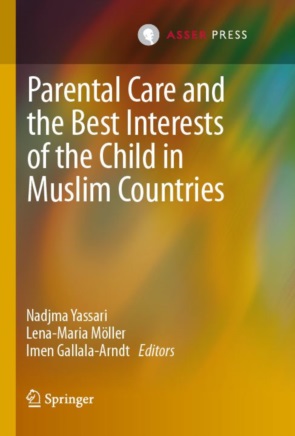 Parental Care and the Best Interests of the Child in Muslim Countries
March 2017
Order
Details
Published:

March 2017

Pages:

xviii + 353 pp.

Publisher:

T.M.C. ASSER PRESS

Distributor:

Springer
This book is the first analysis of parental care regimes in Muslim jurisdictions, both in a comparative and country-specific sense. It contains the proceedings of a workshop on Parental Care and the Best Interests of the Child in Muslim Countries that the Max Planck Research Group "Changes in God's Law: An Inner-Islamic Comparison of Family and Succession Law" hosted in Rabat, Morocco in April 2015. This workshop saw a total of 15 country reports presented on questions of custody, guardianship and their development within different Muslim jurisdictions (ranging from Indonesia to Morocco), a number of which are included in full in the book. Each of these country reports contains a historical perspective on the evolution of domestic rules regarding custody and guardianship, and on the introduction and development of the notion of the best interests of the child.
Most importantly, the prevailing legal norms, both substantive and procedural, are explored and particular attention is given to legal practice and the role of the judiciary. In addition to a selection of country reports from the workshop, the volume includes two comparative analyses on questions of parental care in both public and private international law.
With a high practical relevance for legal practitioners working in the area of cross-border custody disputes and the most up-to-date assessment of parental care regimes beyond a pure analysis of statutory law, this book combines a number of country reports authored by experts who have worked or are still based in the respective countries they are reporting on and thus contains in-depth discussions of legal practice and custody law in action.
Nadjma Yassari is Director of the Research Group "Changes in God's Law: An Inner-Islamic Comparison of Family and Succession Law" while Lena-Maria Möller and Imen Gallala-Arndt are Senior Research Fellows at the Max Planck Institute for Comparative and International Private Law in Hamburg and the Max Planck Institute for Social Anthropology in Halle respectively.
Specific to this book:
First comparative as well as country-specific analysis of parental care regimes in Muslim jurisdictions
High practical relevance for legal practitioners working in the area of cross-border custody disputes
Most up-to-date assessment of parental care regimes beyond a pure analysis of statutory law
Available for download

Frontmatter, incl. Table of Contents