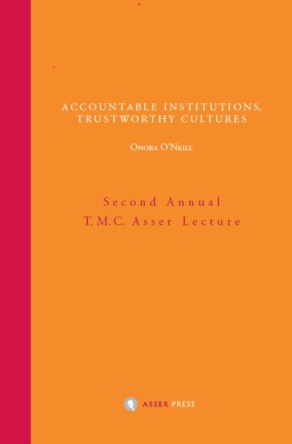 Accountable Institutions, Trustworthy Cultures - Second Annual T.M.C. Asser Lecture

Series: Annual T.M.C. Asser Lecture Series
May 2017
Order
Details
Published:

May 2017

Pages:

vi + 32 pp.

Publisher:

T.M.C. ASSER PRESS

Distributor:

T.M.C. Asser Press
In the Second Annual T.M.C. Asser Lecture Accountable Institutions, Trustworthy Cultures, delivered by Onora O'Neill in December 2016 in The Hague, Professor O'Neill argues that rules are evidently needed for the rule of law, and hence also for the protection of human rights, for democracy, and for commercial life. However, rules are always and unavoidably incomplete and indeterminate. Their use is always a matter of judgement. Yet contemporary regulation often appears to ignore this well-established point.
According to Professor O'Neill, a more adequate approach to institutional life would recognise the importance of institutional cultures that acknowledge the importance of institutional life being guided by purposes, standards and cultures that require and foster the exercise of judgement in the use of rules.
Professor O'Neill was awarded The Norwegian Holberg Prize 2017 for her influential work in the field of moral and political philosophy. She is particularly well known for her work on Kant, bioethics, human rights, trust and communication ethics.
The lecture held by Onora O'Neill is published as a book in the Annual T.M.C. Asser Lecture Series
Download the full text of the Second Annual T.M.C. Asser Lecture below or order the printed version at press@asser.nl at EUR 10.00 (excl. p&p).
Available for download

Second Annual T.M.C. Asser Lecture