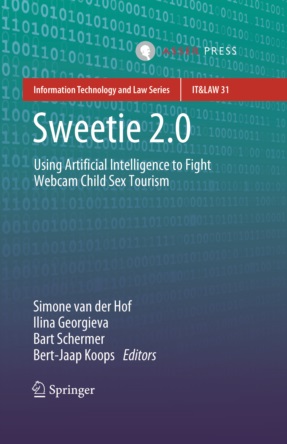 Sweetie 2.0 - Using Artificial Intelligence to Fight Webcam Child Sex Tourism

Series: Information Technology and Law Series
July 2019
Order
Details
Published:

July 2019

Pages:

xvi + 542 pp., 20 ill. (8 fc)

Publisher:

T.M.C. ASSER PRESS

Distributor:

Springer
This book centres on Webcam Child Sex Tourism and the Sweetie Project initiated by the children's rights organization Terre des Hommes in 2013 in response to the exponential increase of online child abuse. Webcam child sex tourism is a growing international problem, which not only encourages the abuse and sexual exploitation of children and provides easy access to child-abuse images, but which is also a crime involving a relatively low risk for offenders as live-streamed webcam performances leave few traces that law enforcement can use. Moreover, webcam child sex tourism often has a cross-border character, which leads to jurisdictional conflicts and makes it even harder to obtain evidence, launch investigations or prosecute suspects.
Terre des Hommes set out to actively tackle webcam child sex tourism by employing a virtual 10-year old Philippine girl named Sweetie, a so-called chatbot, to identify offenders in chatrooms. Sweetie 1.0 could be deployed only if police officers participated in chats, and thus was limited in dealing with the large number of offenders. With this in mind, a more pro-active and preventive approach was adopted to tackle the issue. Sweetie 2.0 was developed with an automated chat function to track, identify and deter individuals using the internet to sexually abuse children. Using chatbots allows the monitoring of larger parts of the internet to locate and identify (potential) offenders, and to send them messages to warn of the legal consequences should they proceed further.
But using artificial intelligence raises serious legal questions. For instance, is sexually interacting with a virtual child actually a criminal offence? How do rules of criminal procedure apply to Sweetie as investigative software? Does using Sweetie 2.0 constitute entrapment? This book, the outcome of a comparative law research initiative by Leiden University's Center for Law and Digital Technologies (eLaw) and the Tilburg Institute for Law, Technology, and Society (TILT), addresses the application of substantive criminal law and criminal procedure to Sweetie 2.0 within various jurisdictions around the world.
This book is especially relevant for legislators and policy-makers, legal practitioners in criminal law, and all lawyers and academics interested in internet-related sexual offences and in Artificial Intelligence and law.
Professor Simone van der Hof is General Director of Research at the Center for Law and Digital Technologies (eLaw) of the Leiden Law School at Leiden University, The Netherlands. Ilina Georgieva, LL.M., is a PhD researcher at the Faculty of Governance and Global Affairs at Leiden University, Bart Schermer is an associate professor at the Center for Law and Digital Technologies (eLaw) of the Leiden Law School, and Professor Bert-Jaap Koops is Professor of Regulation and Technology at the Tilburg Institute for Law, Technology, and Society (TILT), Tilburg University, The Netherlands.
Specific to this book:
Cutting-edge research on the use of artificial intelligence to fight online sexual abuse
Survey of criminal law regarding online sexual child abuse in various jurisdictions
Provides information on the potential of using new technologies in criminal investigations
With a foreword by Hans Guyt of Terre des Hommes NL.
This is Volume 31 in the Information Technology and Law (IT&Law) Series