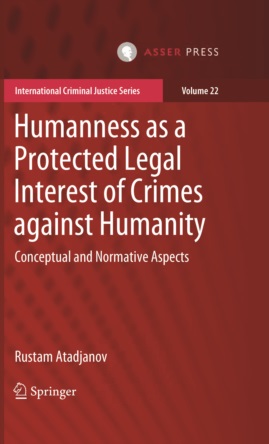 Humanness as a Protected Legal Interest of Crimes against Humanity - Conceptual and Normative Aspects

Series: International Criminal Justice Series
June 2019
Order
Details
Published:

June 2019

Pages:

xxiv + 324 pp., 2 ill.

Publisher:

T.M.C. ASSER PRESS

Distributor:

Springer
Central to this book is the concept of humanity in international law. It traces the evolution of that concept within international law, studies the existing theories of crimes against humanity, and lays out its own theory based on an inclusive view of "humanity". Crimes against humanity are core crimes under international law; their modern definition is found in the Rome Statute. However, their protective scope remains unclear, with the exact meaning of "humanity" left undefined in law.
The proposed theory argues that "humanity" should be understood as "humanness" and crimes against humanity should be criminalised because humanness constitutes these crimes' valid protected interest. This volume in the International Criminal Justice Series offers an analysis of the German doctrine of Rechtsgut to justify the penalization of crimes against humanity at both domestic and international levels.
This is the first monograph on crimes against humanity written by an author from the Commonwealth of Independent States (CIS) aimed at an international audience, and should constitute a useful tool for academics, students and practitioners of international law.
Rustam Atadjanov, LLB, LLM, Dr.jur., attained his Ph.D. at the University of Hamburg in Germany and is a former Legal Adviser to the Regional Delegation of the International Committee of the Red Cross in Central Asia, Tashkent, Uzbekistan.
Specific to this book:
Proposes solutions to existing problems regarding the analysis and structure of crimes against humanity by clarifying their protective scope
Discusses both theoretical and practical aspects of the central issue and puts forward a new comprehensive theory of crimes against humanity which answers concrete and normative questions
Provides new insights into unresolved legal or philosophical issues related to the concept of humanity in international criminal law
Provides the first-ever comparative analysis of the protective scopes of crimes against humanity and other core crimes under international law
Represents a new holistic, systematised as well as inter-disciplinary (law, history, philosophy) academic treatment of the subject
With a foreword by Sergey Sayapin LLB, LLM, Dr.iur., Assistant Professor of International and Criminal Law, School of Law, KIMEP University, Almaty, Kazakhstan
Excerpt from a book review:
Atadjanov's book argues for a broad theory of humanness to describe the protective scope of crimes against humanity. Is this broadness of the theory a weakness? Is the theory too broad to be fit for (criminal law)purposes? I think not. It is indeed the broadness of the protected interest of humanness that elevates and situates crimes against humanity; that helps to counter the insidious and more blatant relativization, as we have seen with reference to the apartheid example, and that helps to explain why a crime like apartheid is, ultimately, a crime against humanity precisely because of the denial of the humanness of its victims.
- Gerhard Kemp, Professor of International Criminal Law, University of Derby, UK
For the full review, published in the Journal of International Criminal Justice (Oxford Academic), 17 March 2021, see: doi:10.1093/jicj/mqab009
This is Volume 22 in the International Criminal Justice Series
Available for download

Front matter incl. table of contents