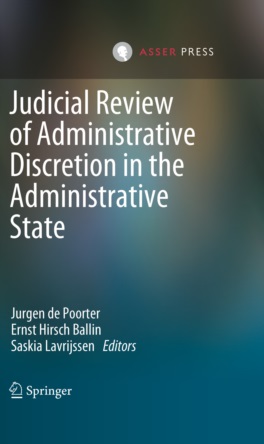 Judicial Review of Administrative Discretion in the Administrative State
June 2019
Order
Details
Published:

June 2019

Pages:

xvi + 198 pp., 2 ill. (1 fc)

Publisher:

T.M.C. ASSER PRESS

Distributor:

Springer
This book deals with one of the greatest challenges for the judiciary in the 21st century. It reflects on the judiciary's role in reviewing administrative discretion in the administrative state; a role that can no longer solely be understood from the traditional doctrine of the Trias Politica.
Traditionally, courts review acts of administrative bodies implying a degree of discretion with quite some restraint. Typically it is reviewed whether the decision is non-arbitrary or whether there is no manifest error of assessment. The question arises though as to whether the concern regarding ensuring the non-arbitrary character of the exercise of administrative power, which is frequently performed at a distance from political bodies, goes far enough to guarantee that the administration exercises its powers in a legitimate way.
This publication searches for new modes of judicial review of administrative discretion exercised in the administrative state. It links state-of-the-art academic research on the role of courts in the administrative state with the daily practice of the higher and lower administrative courts struggling with their position in the evolving administrative state.
The book concludes that with the changing role and forms of the administrative state, administrative courts across the world and across sectors are in the process of reconsidering their roles and the appropriate models of judicial review. Learning from the experiences in different sectors and jurisdictions, it provides theoretical and empirical foundations for reflecting on the advantages and disadvantages of different models of review, the constitutional consequences and the main questions that deserve further research and debate.
Jurgen de Poorter is professor of administrative law at Tilburg University and deputy judge in the District Court of The Hague.
Ernst Hirsch Ballin is distinguished university professor at Tilburg University, professor in human rights law at the University of Amsterdam, and president of the T.M.C. Asser Institute for International and European Law. He is also a member of the Scientific Council for Government policy (WRR).
Saskia Lavrijssen is professor of Economic Regulation and Market Governance of Network Industries at Tilburg University.
Specific to this book:
Constitutes a state-of-the-art overview of academic literature on governance in the administrative state and the role of the judiciary therein
Analyses and compares the role of the judiciary in the administrative state in different jurisdictions
Offers practical insights and experiences for the judiciary
Available for download

Front matter incl. table of contents