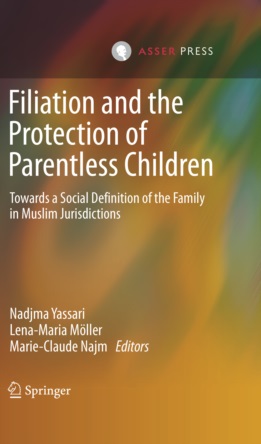 Filiation and the Protection of Parentless Children - Towards a Social Definition of the Family in Muslim Jurisdictions
July 2019
Order
Details
Published:

July 2019

Pages:

xi + 412 pp.

Publisher:

T.M.C. ASSER PRESS

Distributor:

Springer
This book contains selected contributions presented during the workshop "Establishing Filiation: Towards a Social Definition of the Family in Islamic and Middle Eastern Law?", which was convened in Beirut, Lebanon in November 2017.
Filiation is a multifaceted concept in Muslim jurisdictions. Beyond its legal aspect, it encompasses the notion of inclusion and belonging, thereby holding significant social implications. Being the child of someone, carrying one's father's name, and inheriting from both parents form important pillars of personal identity.
This volume explores filiation (nasab) and alternative forms of a full parent-child relationship in Muslim jurisdictions. Eleven country reports ranging from Morocco to Malaysia examine how maternal and paternal filiation is established – be it by operation of the law, by the parties' exercise of autonomy, such as acknowledgement, or by scientific means, DNA testing in particular – and how lawmakers, courts, and society at large view and treat children who fall outside those legal structures, especially children born out of wedlock or under dubious circumstances. In a second step, alternative care schemes in place for the protection of parentless children are examined and their potential to recreate a legal parent-child relationship is discussed.
In addition to the country-specific analyses included in this book, three further contributions explore the subject matter from perspectives of premodern Sunni legal doctrine, premodern Shiite legal doctrine and the private international law regimes of contemporary Arab countries. Finally, a comparative analysis of the themes explored is presented in the synopsis at the end of this volume.
The book is aimed at scholars in the fields of Muslim family law and comparative family law and is of high practical relevance to legal practitioners working in the area of international child law.
Nadjma Yassari is Leader of the Research Group "Changes in God's Law: An Inner-Islamic Comparison of Family and Succession Law" at the Max Planck Institute for Comparative and International Private Law while Lena-Maria Möller is a Senior Research Fellow at the Max Planck Institute and a member of the same Research Group. Marie-Claude Najm is a Professor in the Faculty of Law and Political Science at Saint Joseph University of Beirut in Lebanon and Director of the Centre of Legal Studies and Research for the Arab World (CEDROMA).
Specific to this book:
First of its kind (comparative as well as country-specific) analysis of filiation and foster care/adoption in Muslim jurisdictions
High practical relevance for legal practitioners working in the area of cross-border parental care disputes
Most up-to-date assessment of child law beyond a pure analysis of statutory law
The volume combines country reports authored by experts having worked or still being based in the respective countries they are reporting on and thus includes in-depth discussions of legal practice and child law in action