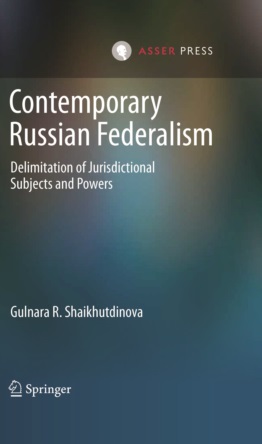 Contemporary Russian Federalism - Delimitation of Jurisdictional Subjects and Powers
April 2020
Order
Details
Published:

April 2020

Pages:

xii + 92 p.

Publisher:

T.M.C. ASSER PRESS

Distributor:

Springer
The focus of this book is the legal analysis of the evolution of federal relationships from an asymmetric treaty-constitutional federation to a de facto unitary state. Questioned is whether it is worth returning to the asymmetric federative form, while the aim is to review the origins of federalism in the New Russia, assess the present de jure and de facto situations and analyze whether Russia has a chance of reviving federalism.
Steps forward on the way to developed federal relationships in the 1990s have been replaced by steps backwards owing to unitary tendencies in the 2000s and the 2010s. But is this a sustainable state of affairs? The possible ways of framing relations between the center and the constituent units for the next four years and beyond are also discussed.
This book is aimed at researchers and students in the field of comparative constitutional law, Russian studies and federal and regional studies.
Gulnara Shaikhutdinova is Professor and Doctor of International Law in the Faculty of Law of Kazan (Volga Region) Federal University, Republic of Tatarstan, Russian Federation.
Specific to this book:
Provides a legal analysis of federalism in Russia and facilitates a comprehensive approach
Offers the legal acts and law enforcement acts of the Russian Federation in English, which were until now only available in Russian
Equips researchers and students with first-hand information
The first publication to introduce into scientific circulation the vast Russian literature on federalism and its regional dimension, including from scientists from the Republic of Tatarstan
Available for download

Front matter incl. table of contents