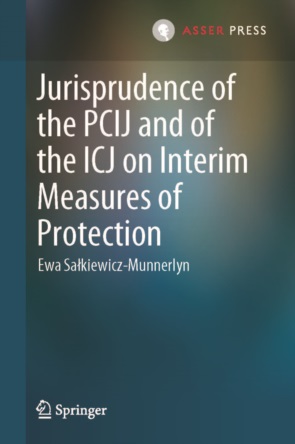 Jurisprudence of the PCIJ and of the ICJ on Interim Measures of Protection
October 2021
Order
Details
Published:

October 2021

Pages:

xi + 155 pp.

Publisher:

T.M.C. ASSER PRESS

Distributor:

Springer
This book deals with all the cases that came before the Permanent Court of International Justice (PCIJ) from 1922 to 1946, as well as those that were heard by its successor, the International Court of Justice (ICJ) from 1946 to 2020 in which interim measures of protection were either indicated or refused.
The monograph shows how cases in which injunctive relief was sought were handled and how the PCIJ and the ICJ have undergone certain reforms over the years. The new approach taken by the author is to present all the matters brought before both the PCIJ and the ICJ in full and to present the new requirements on the part of the ICJ that have been formulated in recent years.
The book is aimed at law students, lecturers and those working in the field of international law.
Ewa Salkiewicz-Munnerlyn was a Polish diplomat working for the Ministry of Foreign Affairs from 1991 to 2018. She was appointed chargé d'affaires at the Polish Embassy to the Holy See from 1993-1994, after which she served as the Polish consul at the Consular Division of the Polish Embassy in Washington D.C. from 1995-1999. She then held the position of Human Rights Officer of the OSCE in Macedonia (Skopje and Ohrid) and Bosnia and Hercegovina (Pale in Republika Srbska) from 2001-2005 and has also several times worked as a short-term observer of the OSCE during parliamentary and presidential elections in Ukraine, Russia, Moldova and Belarus. She attained a Ph.D. at the Jagiellonian University in Krakow, Poland and a post-graduate diploma at The Graduate Institute of International and Development Studies (IHEID) (L'Institut de hautes études internationales et du développement) in Geneva, Switzerland.
Specific to this book:
A new approach to understanding the binding force of the interim measures, based on recent cases brought before the ICJ
Focuses on the evolution of these procedural measures at both courts, taking into account the influence of actuality
Offers improvements regarding the enforcement of the interim measures and proposes changes to the ICJ's internal rules
Available for download

Front matter incl. table of contents