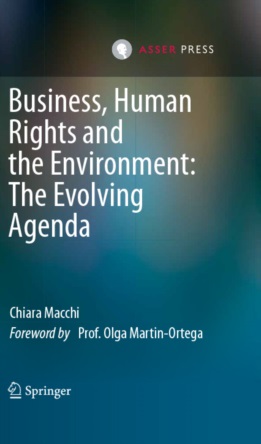 Business, Human Rights and the Environment: The Evolving Agenda
April 2022
Order
Details
Published:

April 2022

Pages:

xvi + 201 pp.

Publisher:

T.M.C. ASSER PRESS

Distributor:

Springer
More than ten years after the adoption of the UN Guiding Principles on Business and Human Rights, this book critically reviews the achievements, limits and next frontiers of business and human rights following the 'protect, respect, remedy' trichotomy. The UN Guiding Principles acted as a catalyst for hitherto unprecedented regulatory and judicial developments.
The monograph by Macchi proposes a functionalist reading of the state's duty to regulate the transnational activities of corporations in order to protect human rights and adopts a holistic approach to the corporate responsibility to respect, arguing that environmental and climate due diligence are inherent dimensions of human rights due diligence.
In the volume emerging legislations are assessed on mandatory human rights and environmental due diligence, as well as the potential and limitations of a binding international treaty on business and human rights. The book also reviews groundbreaking litigation against transnational corporations, such as Lungowe v. Vedanta and Milieudefensie v. Shell, for their human rights and climate change impacts.
The book is primarily targeted at academic and non-academic legal experts, as well as at researchers and students looking at business and human rights issues through the lenses of legal studies (particularly international law and European law), political sciences, business ethics, and management. Additionally, it should also find a readership among practitioners working in the public or private sector (consultants, CSR officers, legal officers, etc.) willing to familiarize themselves with the expanding areas of liability, financial and reputational risks connected to the social and environmental impacts of global supply chains.
Chiara Macchi is currently Lecturer in Law at Wageningen University & Research in The Netherlands.
Specific to this book:
Unpacks the most important developments 10 years upon the adoption of the UN Guiding Principles on Business and Human Rights
Addresses the environmental and climate change onus on business as inherent to the corporate responsibility to respect human rights
Addresses complex issues in a clear language, making it an up-to-date and comprehensive tool for both research and teaching
With a foreword by Prof Olga Martin-Ortega, Professor of International Law