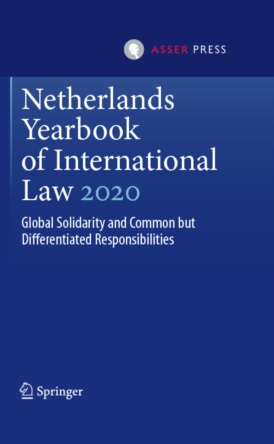 Netherlands Yearbook of International Law 2020, Volume 51 - Global Solidarity and Common but Differentiated Responsibilities

Series: Netherlands Yearbook of International Law
August 2022
Order
Details
Published:

August 2022

Pages:

viii + 449 pp., 1 ill. (fc)

Publisher:

T.M.C. ASSER PRESS

Distributor:

Springer
This volume of the Netherlands Yearbook of International Law (NYIL) addresses the question how the assumption that states have a common obligation to achieve a collective public good can be reconciled with the fact that the 195 states of today's world are highly diverse and increasingly unequal in terms of size, population, politics, economy, culture, climate and historical development. The idea of common but differentiated responsibilities is on paper the perfect bridge between the factual inequality and formal equality of states. The acknowledgement that states can have common but still different – more or less onerous – obligations is predicated on the moral and legal concept of global solidarity.
This book encompasses general contributions on the function and the content of the related principles, chapters that describe and evaluate how the principles work in a specific area of international law and chapters that address their efficiency and broader ramifications, in terms of compliance, free-rider behaviour and shifting balances of power.
The originality of the book resides in the integration of conceptual, comparative and practical dimensions of the principles of global solidarity and common but differentiated responsibilities. The book is therefore highly recommended reading for both academics with a theoretical interest and those working within international organisations.
The Netherlands Yearbook of International Law was first published in 1970. It offers a forum for the publication of scholarly articles in a varying thematic area of public international law.
Specific to this book:
Offers a survey of how the principle of common but differentiated responsibilities is considered in international law
Provides a comparative perspective on the challenges each discipline within international law faced in the application
Contributes to the topical debate on climate change and how that translates to the realm of international law/relations
Click here for general information about the Netherlands Yearbook of International Law (ISSN: 0167-6768, EISSN: 1574-0951).
If you are interested in submitting your article, please contact the Managing Editor: Dr. Carl Emilio Lewis, T.M.C. Asser Instituut, The Hague, The Netherlands, c.lewis@asser.nl
Click here for the Author Guidelines, the topic of the next volume of NYIL and the documentation (online since 2011).
The Netherlands Yearbook of International Law is published in the Netherlands Yearbook of International Law Series
Available for download