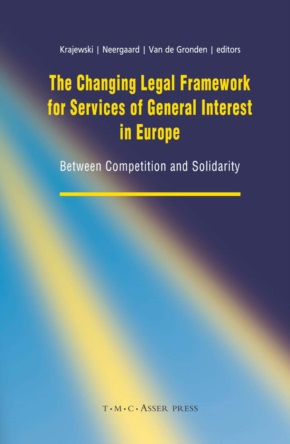 The Changing Legal Framework for Services of General Interest in Europe - Between Competition and Solidarity

Series: Legal Issues of Services of General Interest
2009
Order
The European Legal Framework for the Provision of Services of General Interest/Public Services has been in a state of transformation since the early 1990s, causing profound effects on the social and economic policies pursued by the Member States. This examination of the impact of EC internal market, competition, state aid and procurement law on the provision of these services focuses in particular on the fields of health services, social services and local public services.
It comprises horizontal studies on these subjects which take into account the most recent case law and community legislation from the European Court of Justice, and includes country reports from ten different Member States.
The authors of the individual contributions are well-known experts in their fields. This book is of great interest to academics, practitioners, government officials and policymakers dealing with EC affairs.
Markus Krajewski is a guest Professor at the University of Bremen, Germany and on leave from the University of Potsdam, Germany. Ulla Neergaard is a Professor of EU Market Law at the University of Copenhagen, Denmark. Johan van de Gronden is a Professor of European Law at the Radboud University, Nijmegen, The Netherlands.
The Legal Issues of Services of General Interest Series
The aim of the series Legal Issues of Services of General Interest is to sketch the framework for services of general interest in the EU and to explore the issues raised by developments related to these services.
Available for download

Krajewski acknowledgements

Krajewski Summ of the Contents

Book Review, CML 47, 2010