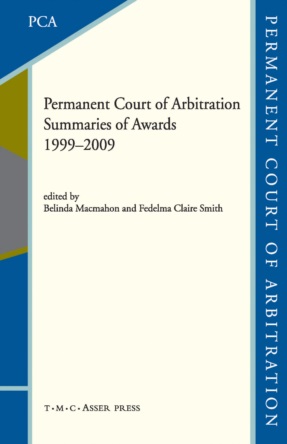 Permanent Court of Arbitration - Summaries of Awards 1999–2009
2010
Order
Over the decade December 1999 to August 2009, fifteen arbitral tribunals and commissions for which the Permanent Court of Arbitration (PCA) in The Hague provided registry services rendered thirty-one public awards and decisions. These arbitrations have all addressed matters of international significance, such as, inter alia, State sovereignty, the interpretation of treaties, the delimitation of land and maritime boundaries, the laws of armed conflict (jus in bello and jus ad bellum), human rights, the law of the sea, environmental law, and the protection of foreign investors. They include four arbitrations brought under Annex VII of the 1982 United Nations Convention of the Law of the Sea; the recently concluded arbitration between the Government of Sudan and the Sudan People's Liberation Movement/Army; and the two commissions established by the December 2000 peace agreement signed by Eritrea and Ethiopia, the Eritrea-Ethiopia Boundary Commission and the Eritrea-Ethiopia Claims Commission.
This volume contains detailed, concise summaries of those thirty-one awards, and a critical analysis of the PCA's contribution to international law and international dispute resolution by Professor J.G. Merrills, Professor of International Law at the University of Sheffield, United Kingdom. The book is edited by former PCA legal staff, Belinda Macmahon and Fedelma Claire Smith.
This collection will be an invaluable research tool for academics and practitioners of public international law and related disciplines, and for anyone wishing to gain an insight into the work of the PCA in recent years.
Available for download


PCA Summaries Table of Contents