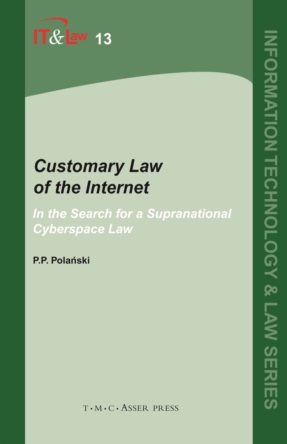 Customary Law of the Internet - In the Search for a Supranational Cyberspace Law

Series: Information Technology and Law Series
January 2007
Order
Customary Law of the Internet is the first book that deals comprehensively with the emergence of a new kind of law on the Internet that could be utilized by governments and private arbitrators to settle disputes and make better laws. This new kind of law is what once used to be the only source of legal rights and obligations: customary law.
The author first addresses issues posed by the emergence of the Internet and analyses relevant international treaties, in particular the Convention on the Use of Electronic Communications in International Contracting. He then comes to the emerging customary norms developed by the Internet community, the importance of custom from an historical perspective and the nature of international custom. The concept of Internet custom is introduced, followed by a detailed methodology for evidencing customary norms in judicial proceedings.
The last part of the book is devoted to the novel concept of autonomous Internet law, based on customary norms of the Internet community, arbitral and judicial awards, general principles of law, conventions, model laws, commonly used contract terms and technical standards. Several Internet customs are discussed in the area of intellectual property, electronic contracting, online advertising and transaction security.
This book is addressed both to national and international governments, judges and arbitrators as well as to online traders, researchers and the Internet community as a whole. It is an important tool for academics and practitioners interested and active in cyberspace regulation and the Information Technology community.
Dr Paul Przemyslaw Polanski (BBus, magister prawa) is presently a senior researcher at the Department of European Law, Faculty of Law, University of Warsaw, and Department of Information Systems, Leon Kozminski Academy of Entrepreneurship and Management (LKAEM), Warsaw. Previously, he worked as a computer programmer in the Australian IT industry and as a researcher at the University of Melbourne and Monash University. He also worked for legal offices in Poland, specializing in information technology law, contracts, property and EU law. Currently, he administers the e-learning platform www.elaw.pl.
This is Volume 13 in the Information Technology and Law (IT&Law) Series
Available for download