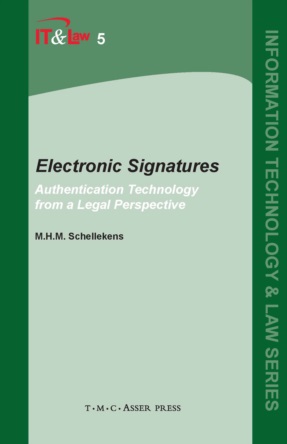 Electronic Signatures - Authentication Technology from a Legal Perspective

Series: Information Technology and Law Series
2004
Order
The contention that the provision of European Directives on functional legal requirements for digital signature validity solves a core problem of electronic commerce can at best be called naïve. The catch-phrase 'what holds off line, holds online' may be in tune with a general emotion towards the invasion of information technology into business; in this book it is made clear that there are no simple shortcuts for the lawyer who is concerned with authenticated digital transactions.
The author first sets out to describe the main aspects of authentication technologies, presenting the technical insights needed to get to the legal semantics of functional equivalence between traditional and digital signatures. The second part of his research focuses on the usability of authentication technology and what it entails for its users. Aspects considered are: qualification as electronic signature; limitations of electronic signatures; the electronic signature as evidence; alternatives to electronic signatures; liability and the burden of proof; and, last but not least, privacy concerns.
The research for this book is based on an in-depth literature study and interviews with highly qualified experts in the field. It provides valuable tools and background information not only for everyone active in or setting out on e-business in its widest concept, but also for practising lawyers and students of information technology.
Dr. Maurice Schellekens is a senior researcher at the Center for Law, Public Administration and Informatization of Tilburg University. He specializes in technology law, with a special emphasis on ICT and law.
This is Volume 5 in the Information Technology and Law (IT&Law) Series
Available for download