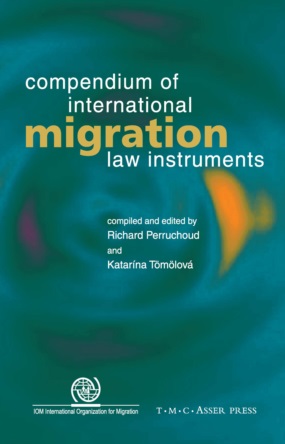 Compendium of International Migration Law Instruments
2007
Order
If you believe that States have complete discretion in handling migration matters and that migrants are not protected under international law, read this book. You will be amazed by the wealth of international instruments, treaties, standards and principles existing in international law. Rights and obligations of States, as well as rights and duties of migrants, are defined in a great number of legal instruments – some of them hard to find – stemming from various branches of law and constituting what is known as "international migration law".
This publication assists readers – be they academics, students, practitioners, experts or migrants themselves – to better orientate themselves in this web of norms and principles existing at the international level. The focus of the Compendium is a comprehensive compilation of universal instruments with varying degrees of legal force – from authoritative international treaties, through customary international law, to the sets of principles and guidelines which, although non-binding, are nonetheless of clear contemporary relevance and can contribute to the progressive development of law in areas not yet covered by "hard" norms.
To further this end, this book is being released as a companion to International Migration Law – Developing Paradigms and Key Challenges (edited by R. Cholewinski, R. Perruchoud and E. MacDonald and published by T.M.C. Asser Press, The Hague 2007), which shows how these norms have been applied and are developing in various concrete contexts.
Richard Perruchoud is Director of the International migration Law and Legal Affairs Department of the International Organization for Migration in Geneva. Katarína Tömölová is an Associate Legal Officer in the same Department of IOM.
Available for download

Perruchoud Tomolova Introduction