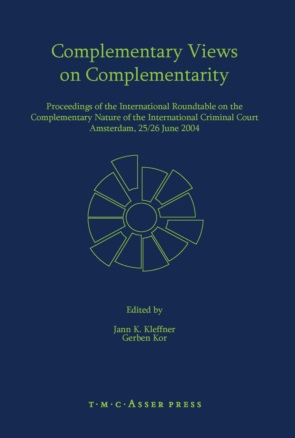 Complementary Views on Complementarity - Proceedings of the International Roundtable on the Complementary Nature of the International Criminal Court, Amsterdam 25/26 June 2004
2006
Order
One of the most fundamental precepts of the International Criminal Court is its complementary character. Complementarity defines the relationship between States and the Court. It denotes that cases are admissible before the International Criminal Court if a State remains wholly inactive or is unwilling or unable to investigate and prosecute genuinely crimes within the jurisdiction of the Court. Complementarity raises a myriad of questions, a discussion of which is widely held to stand central in understanding the Rome Statute of the International Criminal Court and the system of international criminal justice it establishes.
With a view to address some of the most pertinent questions, the Amsterdam Center for International Law and the Department of Legal Philosophy at the Law Faculty of the Free University of Amsterdam held an international expert roundtable on the 'Complementarity Principle of the Rome Statute of the International Criminal Court' in June 2004. The roundtable provided a forum for high-level exchange between Ph.D. researchers and experts on the subject.
As a framework for that exchange, a number of researchers presented a paper, which was commented upon by an expert. Questions addressed are: What role does complementarity play in ascertaining States' consent to the Rome Statute? What is the relationship between complementarity and State sovereignty? What is the effect of complementarity on national repression of ICC crimes? What room, if any, does complementarity leave for non-criminal responses to ICC crimes, such as truth commissions and amnesties? How should complementarity be conceptualised in order to make the ICC a success?
The papers and comments form the basis of the present book, which is the first to present a multidisciplinary view on complementarity. It is especially of interest to academics and advanced law students, as well as practitioners in the field of international criminal law, including judges, policy makers and government officials.
Jann K. Kleffner is Assistant Professor of International Law at the Amsterdam Center for International Law, University of Amsterdam. Gerben Kor is Assistant Professor of Philosophy of Law, Free University of Amsterdam.
Available for download


Kleffner Kor Summary of Contents