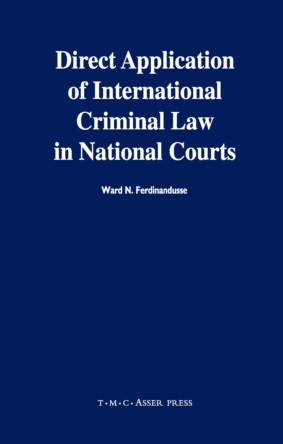 Direct Application of International Criminal Law in National Courts
2006
Order
When national courts judge international crimes like genocide, crimes against humanity and war crimes, they can draw on both national and international criminal law. The relationship between these two bodies of law is not always clear. Can national courts base prosecutions of international crimes directly on international criminal law? In a world where national laws often proscribe international crimes in an incomplete or deficient manner, this question has considerable practical relevance for the enforcement of international criminal law. Yet, it has received little attention in doctrine while practice shows widely divergent approaches of national courts to the feasibility of direct application.
The author examines the concept of the direct application of international criminal law in national courts. He provides a rich description of the relevant practice in many different States ranging from Argentina to Senegal. The author analyzes both the international legal framework for the prosecution of international crimes in national courts and policy considerations pertaining to direct application. Particular topics such as the jus cogens character of the international crimes, the duty to prosecute under international law, the influence of the International Criminal Court, the principle of legality and the principle of consistent interpretation receive in-depth treatment. Easily accessible through an index and tables of cases and documents, this book is a valuable tool for academics and practitioners alike.
Dr. Ward Ferdinandusse is Legal Adviser on International Criminal Law to the Dutch Public Prosecutions Department. Previously, he worked as a Research Associate at the Amsterdam Center of International Law (2000-2004).
Available for download


Ferdinandusse Table of Contents