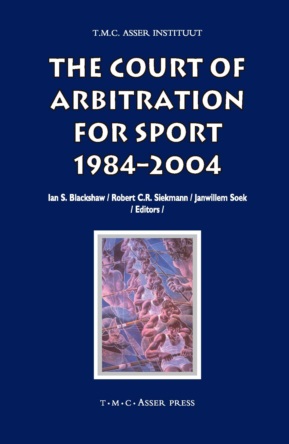 The Court of Arbitration for Sport 1984–2004

Series: ASSER International Sports Law Series
2006
Order
The Court of Arbitration for Sport has come a long way since the idea of establishing it was first mentioned by Juan Antonio Samaranch, the former IOC President, who foresaw the need for a specialised body to resolve sporting disputes outside the normal court system. His aim was for CAS to become the supreme court of world sport; an aim which, this book demonstrates, has been largely fulfilled.
It has, in the words of the Swiss Federal Tribunal in a landmark judgement of 27 May 2003, 'built up the trust of the sporting world [and is] … now widely recognised … [as] … one of the principal mainstays of organised sport.'
This 'jubilee' book - after twenty years of operations - charts the history, including significant milestones, and achievements of the CAS.
With a foreword by Luiz Roberto Martins Castro, President Brazilian National Sports Law Institute.
This book appears in the ASSER International Sports Law Series, under the editorship of Dr Robert Siekmann and Dr Janwillem Soek.
Available for download