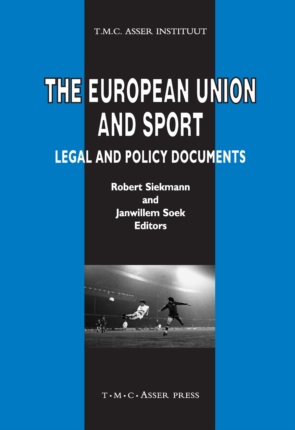 The European Union and Sport - Legal and Policy Documents

Series: ASSER International Sports Law Series
2005
Order
The European Union and Sport: Legal and Policy Documents is the first volume in the T.M.C. Asser Institute series of collections of documents on international sports law containing material on the intergovernmental (interstate) element of international sports law. Previous volumes have dealt with the Statutes and Constitutions of universal sports organizations, their Doping as well as their Arbitral and Disciplinary Rules.
The legal and policy texts in the present book are arranged in thematical, alphabetical order and are chronologically subordered per theme. They cover the period since the Walrave judgement in 1974 when the European Court of Justice established that sport is subject to Community law to the extent that it constitutes an economic activity. The book in fact gives a detailed insight into what could be called the 'EU Sport Acquis' for the present and future (candidate) Member States. This acquis has been developed over the years in numerous decisions and policy documents by, in particular, the Council, Commission, European Parliament and Court of Justice.
The contents of this book are divided into three parts totalling twenty chapters and covering all themes which the EC/EU has dealt with so far. The General part contains general policy documents such as, for example, the European Model of Sport and the so-called Helsinki Report on Sport. Specific Subjects concern Boycott, Broadcasting (in particular the Television without Frontiers Directive), Community Aid and Sport Funding (for example, the Eurathlon Programme), Competition (central selling of tv rights regarding the UEFA Champions League, the German Bundesliga, the English Premier League, etc., Formula One, World Cup ticketing arrangements, players' agents), Customs, Diplomas (Heylens), Discrimination (Walrave, Dona, Kolpak, and including Women in sport), Doping (Community Support Plan and Pilot Project for Campaigns to Combat Doping in Sport), Education / Youth (European Year of Education through Sport 2004, and documents concerning child protection in sport and trafficking in young footballers), the freedom of establishment to provide services (Deliege) and of movement of workers (Bosman, Lehtonen), the Olympic Games, State Aid, Tax, Tobacco Advertising, Trade Marks (Arsenal/Reed), Vandalism and Violence (football hooliganism) and Miscellanea (Fishing, Horses, Hunting, etc.).
The European Union and Sport: Legal and Policy Documents provides an invaluable source of reference for governmental and sports officials, legal practitioners and the academic world. With the increasing public interest in the legal aspects of sports, this collection of documents is a timely and welcome contribution to enhancing the accessibility of basic texts on international sports law and policy.
With a Foreword by Viviane Reding, EU Commissioner for Education and Culture.
This book appears in the ASSER International Sports Law Series, under the editorship of Dr Robert Siekmann and Dr Janwillem Soek.
Available for download

EU and Sport Summary of Contents