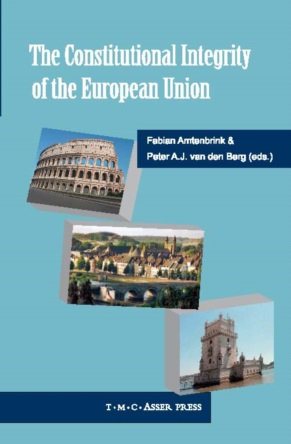 The Constitutional Integrity of the European Union
2010
Order
National constitutions do not only define the organisational structure of the state but also serve to provide a sense of order and identity to society at large. This book explores the consequences of European constitutionalisation for the integrative function of national constitutions, and examines in what way national constitutional orders contribute to the constitutional integrity of the European Union.
The book starts from a historical perspective, demonstrating how lessons from the past are relevant today, and then goes on in a series of dynamic and closely reasoned analyses to consider constitutionalism and citizenship in the light of the case-law of the Court of Justice of the European Union. A wide variety of topics is discussed, such as fundamental rights, legislative procedures, internal market law and criminal law.
The contributions in this book are highly relevant to the ongoing debate about constitutionalism in the context of the European Union, since many of the substantive ideas of the failed Constitution for Europe, shorn of its symbols and overtones, are being resurrected in the Treaty of Lisbon.
Fabian Amtenbrink is Professor of European Union Law at the Erasmus School of Law of the Erasmus University Rotterdam, The Netherlands.
Peter A.J. van den Berg is Associate Professor at the Faculty of Law of the University of Groningen, The Netherlands.
With a Preface by Laurence W. Gormley, Professor of European Law & Jean Monnet Professor, University of Groningen.
Available for download
Preface by Laurence W. Gormley