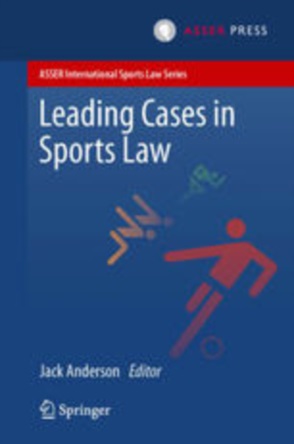 Leading Cases in Sports Law

Series: ASSER International Sports Law Series
2013
Order
Details
Published:

2013

Pages:

375 p.

Publisher:

T.M.C. ASSER PRESS

Distributor:

Springer
This collection of key cases in sports law accounts for both the historical development of the topic and critical, contemporary issues in sports law. The collection includes case law from numerous jurisdictions across the common and civil law traditions and includes leading awards at the Court of Arbitration for Sport, which individually have contributed to the robustness of modern sports law. It is written by over 20 leading sports law academics and practitioners drawn from over a dozen jurisdictions worldwide.
The collection will interest practitioners, students and sports law academics and will also appeal to those interested in the study of sport more generally. Although organised thematically, the individual submissions provide careful and in-depth analyses of each case, outlining their factual background, isolating their key principles and placing them in their wider context.
The self-contained nature of the chapters provides an ease of reference and, collectively, ensures an engaging array of voices and perspectives on this area of law. The book is a must-have for every sports law library, sports law practitioner or student interested in the area.
Professor Jack Anderson is director of Education, School of Law, Queen's University Belfast, UK.
This book appears in the ASSER International Sports Law Series.