Workshop and Presentations at EISA PEC 2023
Published 12 September 2023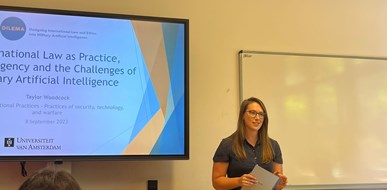 DILEMA's two PhD researchers, Klaudia Klonowska and Taylor Woodcock, travelled to Potsdam last week for the European International Studies Association (EISA) 16th Pan-European Conference on International Relations.
On Tuesday 5 September, Klaudia, along with PhD Researcher Sofie van der Maarel from Radboud University/Netherlands Defence Academy, organised an Early Career Researchers Workshop (ECW) on 'Reshaping Perceptions: Human-Nonhuman Systems in Security Contexts'. The workshop brought together a group of 11 PhD researchers and two senior discussants, Dr Natalie Welfens (Hertie School of Governance) and Dr Rebecca Mignot-Mahdavi (Sciences Po). Participants discussed how technologies in the military and security domains influence how humans see, perceive, and make sense of the threat environment. Presented papers ranged between socio-technical systems in nuclear regimes to algorithmic technologies on the battlefields.
On Friday 8 September, Taylor presented on 'International Law as Practice, Human Agency and the Challenges of Military Artificial Intelligence' in a panel on the practices of security, technology and warfare. She discussed her research on conceptualising international law as sets of practices in which human agency is situated. This understanding of international law shifts emphasis to consideration of not only the content of international law norms, but how these are interpreted and applied through practices of legal reasoning, opening new avenues to consider the impacts of emerging AI-enabled technologies in military decision-making processes. 
If you are interested in issues surrounding military AI, join us in The Hague on 12-13 October 2023 for the DILEMA Conference on Designing International Law and Ethics into Military AI. More information available here.