[Interview] Charting the PhD Journey: A conversation with Joëlle Trampert and Stephanie Triefus
Published 24 September 2021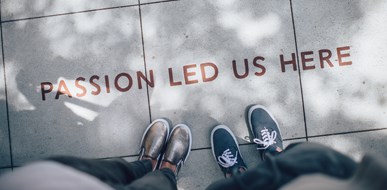 This summer, NNHRR PhD Representatives Joëlle Trampert (University of Amsterdam) and Stephanie Triefus (Erasmus University Rotterdam) sat down with NNHRR Academic Coordinator León Castellanos-Jankiewicz to reflect on their experiences about the doctoral journey and their work representing their peers in the Network's governing bodies.

LCJ: Why did you decide to pursue a PhD in human rights law? How would you describe your PhD journey thus far?
ST: I've been interested in human rights and international relations since studying modern history in high school, where it became pretty obvious that the world was and continues to be set up to entrench inequality. After practicing law in Australia and seeing the never-ending stream of people needing access to legal assistance because of structural disadvantage, I decided to pursue a Masters to better understand the big picture forces driving such inequality. Rather than going back to practice, the idea of being paid to read, write and teach about such fascinating and important topics kept me here in the Netherlands to complete my PhD. My journey so far has been full of highs and lows - I love having the time to learn my topic in detail, but the pandemic has taken away a lot of opportunities to travel and meet people, and imposter syndrome is a daily battle when it comes to writing. 
JT: In my previous position at the CJEU, I realised how much I missed working on topics I had studied in my master's degree, and how much I missed academia in general; getting into the nitty gritty details, thinking about the bigger problems, and discussing these with other people. I had thought about applying for a PhD for a while, and when I saw the vacancy for my supervisor (Göran Sluiter)'s project, I didn't hesitate: the project described the exact problem I had been most interested in at university and had seen first-hand during my internship with Prakken d'Oliveira. My PhD journey so far has been a pleasant yet sometimes bumpy ride, full of unexpected turns and delays due to low fuel and tire changes. To my surprise, I also really enjoy teaching. Research, teaching and supervising students is a lot of fun, but I also struggle with feelings of inadequacy (impostor syndrome is real) and wishing I had studied my topic in greater detail before I started... there is still so much I don't know. But I feel lucky every day to have the job I have.
LCJ: What have you enjoyed about the Network most thus far, and why would you encourage other PhD candidates in the Netherlands to apply for membership?
ST: I've met so many great people through the Network. PhD research can be isolating, so it's important to actively go out and tap into platforms of like-minded people to share the joys and pitfalls of academic life. So much of the Network's activity is designed to help PhD members with training and developing useful skills, it is truly a wonderful resource. Plus, membership is free!
JT: I agree, the focus on PhD candidates is a large part of the Network's purpose. Pre-Covid, I enjoyed meeting people from other universities, learning about their work, being exposed to new ideas, and – last but not least – socialising. One highlight of this past year has been the 2-day Doctoral Research Forum, organised by Stephanie and Daniela. The comments and questions I received from senior Network members and other participants have been really useful, and it helped to re-establish the sense of community while stuck at home. 
LCJ: What motivated you to apply for the role of PhD Representative? What would you like to achieve, or what would you like the Network to achieve, during your time in this position?
ST: I enjoy organisational roles because they bring me into contact with many different people, and fuel my penchant for 'productive procrastination'. I believe in the great work that the Network does for PhDs and want to be a part of taking that further. As PhD Representative I would like to understand better what PhD members need in order to feel connected and supported, and get the ball rolling on more events or programs like the Doctoral Research Forum that will bring people together.  
JT: I joined the Network two and a half years ago, and really benefited from the first year PhD training, the meet and greet with Tineke Strik, and the Toogdag(en), to name but a few examples. I also like the social side of the Network – it's brilliant to meet so many people from other universities who have common interests. When the position opened up, I immediately thought it would be a great way to be a more active member. I also second Steph's comment on 'productive procrastination'.
LCJ: Who is your human rights role model, either in academia or in practice?
ST: I have so many! I am grateful to be surrounded by incredible female academics who are using their voices to draw attention to and work towards changing injustice in the world. I am inspired by people who take the initiative to speak truth to power and make changes where they are needed, such as Lauren Esposito who founded 500 Queer Scientists and the students who founded Erasmus School of Colour. 
JT: So many, I wouldn't know where to start. From 'activist lawyers' to judges, NGO workers, academics and journalists, there are so many people working tirelessly every day to make the world a slightly better place. I must add that my colleagues and especially my supervisors really motivate and inspire me too; they have all managed to make some real progress with their work. 
LCJ: What didn't you know about doing human rights (PhD) research before you started your current project, but that you have now come to realise?
JT: In practical terms, I wish I would have taken more of a systematic approach to my work from the start. All these notebooks and different drafts initially seemed fine, but with the benefit of hindsight, I should have come up with a more efficient system to take notes, structure my reading, and cite my sources, etc. Another thing, which has become clearer to me as I progress, is that as a researcher, you are expected to be objective and neutral. I'm not ashamed to say that I applied for this project with a certain mission in mind. It's hard to find the right balance between writing about the law 'as it is' versus what you think it should be, because the way things are seem slightly problematic. 
ST: I've struggled with the same things, and I'm still working out how to navigate between activism and academia. This comes up in teaching as well, where someone wise once said that a teacher's role is to create space for students to have their own ideas, even if you don't agree with them. Regarding doing a PhD, I used to think that a PhD was some kind of master work that was the pinnacle of your life's achievements (in Australia it's more common to do a doctorate later in life). But some of the best advice I've been given is that a PhD is for your training, and probably one of the worst things you will ever write. This helps me to remember that it's a learning process, and mistakes are welcome. 
LCJ: What would be your advice to anyone who is thinking about embarking on the PhD journey?
JT: For me, there are three vital ingredients for a PhD: a healthy obsession with your topic, the determination to work on something for four years or so, and knowing that you can work well with your supervisors. I thought long and hard about these aspects before applying, and although I sometimes wonder how I will manage to complete my thesis, I know perseverance is key. It can feel overwhelming at times, so I often tell myself that the PhD is but another step in my academic career, and that the writing will never be perfect. My advice would be to talk to people who work in academia, and make sure that you surround yourself with people who motivate and inspire you.
ST: I see so many PhD candidates who are hyper stressed because they are doubting themselves and feel like they haven't done enough or don't know enough. I think it's important (and this is advice I still need to internalise myself) to remember that the PhD is a learning experience, you aren't supposed to know everything from the beginning and it's ok that it takes time. Take breaks, get involved in all the fun academic things like networks and conferences and build a support group both of people at the same stage as you and in your discipline. Always reach out when you need help and celebrate any and all wins!