[Invitation] NNHRR Online Lecture with Prof Tom Ginsburg: 'Democracies and International Law'
Published 29 November 2021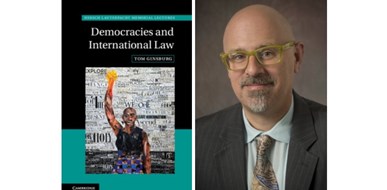 The NNHRR has the pleasure to invite you to a online Lecture with Prof Tom Ginsburg on his recent book Democracies and International Law (Cambridge University Press, 2021) followed by a discussion on Monday, 6 December 2021 at 17:00 CET with introductory remarks by Dr Uladzislau Belavusau (Asser Institute) and moderated by Dr León Castellanos-Jankiewicz (NNHRR Academic Coordinator).
The topic
Democracies and authoritarian regimes have different approaches to international law, grounded in their different forms of government. As the balance of power between democracies and non-democracies shifts, it will have consequences for international legal order. Human rights may face severe challenges in years ahead, but citizens of democratic countries may still benefit from international legal cooperation in other areas. Ranging across several continents, Ginsburg will survey the state of democracy-enhancing international law, and will provide ideas for a way forward in the face of rising authoritarianism.
The speaker
Tom Ginsburg is Leo Spitz Professor of International Law, Ludwig and Hilde Wolf Research Scholar, Professor of Political Science at the University of Chicago. He focuses on comparative and international law from an interdisciplinary perspective. His latest book, How to Save a Constitutional Democracy, was written with Aziz Z. Huq, and his earlier books include Judicial Review in New Democracies (2003), which won the C. Herman Pritchett Award from the American Political Science Association; The Endurance of National Constitutions (2009), which also won a best book prize from APSA; and Judicial Reputation (2015). He currently co-directs the Comparative Constitutions Project, an effort funded by the National Science Foundation to gather and analyze the constitutions of all independent nation-states since 1789. He is a member of the American Academy of Arts and Sciences.