[Second NNHRR Report] From Research to Impact
Published 19 May 2023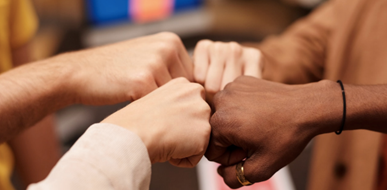 To showcase the achievements of the NNHRR over the past few years, the Network has published its second Report on the theme "From Research to Impact". Since 2017, the NNHRR has firmly established itself as a leading platform in The Netherlands to exchange, enhance and showcase research. Over the past five years, the Network has quickly and successfully created an intellectual community of PhD students and senior academics in The Netherlands working on human rights. In this short period, its membership has grown to over 450 scholars, whereas the financial, material and knowledge resources of its eleven member institutions have been significantly consolidated, streamlined and optimized.  
 The report outlines the NNHRR's ability to connect the academic work of its members across a number of settings, including small and feedback-intensive settings such as the Doctoral Research Forum, and larger conferences like the Annual Toogdag which regroup a diverse range of scholars from the NNHRR's member-institutions. The Network's role as facilitators empowers its PhD members to gain confidence throughout their doctoral journey and exposes them to the work of senior colleagues and, most importantly, their peers. The Network's focus on methodology, interdisciplinarity and diversity enhances their impact and prepares doctoral candidates to face the challenges of the academic market. 
Looking ahead, the Network will continue to support its members in achieving excellence in research, by continuing its various initiatives and consolidating the Network's position in accordance with a bottom-up approach that cements its reputation as a point of reference for human rights research in The Netherlands and beyond over the years to come. 
 To read the report, please click here.