[Watch Now] Dunja Mijatović Delivers Keynote at our Fifth Annual Conference
Published 29 June 2022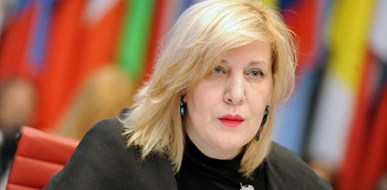 On 22 and 23 June 2022, the Fifth Annual NNHRR Conference titled 'Human Rights in (Times of) Crisis' took place at Leiden Law School. By bringing together over 100 NNHRR members and human rights experts, the conference explored the role of human rights-based approaches in overcoming and confronting today's crises from a multidisciplinary perspective.
This year, the keynote speech was delivered by Dunja Mijatović, Commissioner of Human Rights of the Council of Europe. During her speech, Ms. Mijatović touched on lessons drawn from previous human rights crises prior to the beginning of her mandate in 2018, the war in Ukraine, women's rights and the challenges of ensuring human rights protection for migrants. To watch the video recording of the keynote, click here.
The event opened with welcome remarks by Prof. Titia Loenen from the Organizing Committee and updates on the Network by Prof. Yvonne Donders, Chair of the NNHRR Steering Committee. The substantive programme kicked off with a Plenary Panel moderated by Prof. Ingrid Leijten and featuring remarks by Prof Karin Arts, Prof. Antoine Boysem Dr. Jennifer Sellin and Prof. Tarlach McGonagle. Here, the discussion centered on the role of human rights institutions, with particular attention to COVID-19, climate change, digital threats and the crisis of democracy and rule of law.
Afterwards, participants had the opportunity to participate parallel sessions organized by the NNHRR Working Groups and parallel sessions. To view the full programme, click here.