Our first Doctoral Research Forum provided 'useful feedback, a safe environment and inspiration'.
Published 26 February 2021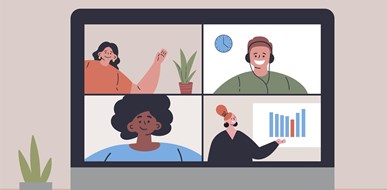 The NNHRR held its first Doctoral Research Forum on 22-23 February, hosted online in cooperation with Erasmus University Rotterdam. The peer-to-peer Forum was designed to be a constructive place for PhD members to share their research with each other while receiving feedback and valuable guidance from senior members of the NNHRR. "The Forum provided me with a great, accessible opportunity to present my research for the first time in a safe environment and to gain useful feedback, insights and inspiration", says participant Tessa van der Rijst (Vrije Universiteit Amsterdam).  
The NNHRR Doctoral Research Forum is an initiative developed by the Network's PhD members to share their work in a collaborative setting and facilitate peer-to-peer exchange as well as mentorship between junior and senior members. Submissions were accepted from PhD members of nine universities working at various stages of their doctoral project. "Part of the mission of the event", says Stephanie Triefus (Erasmus University Rotterdam), PhD member and co-organizer of the Forum, "is to provide early-stage PhD candidates with an opportunity to present their research in a conference setting within a safe and constructive atmosphere."  In addition to delivering presentations, several participants acted as panel moderators. Each participant has also been invited to contribute a post to Human Rights Here, the Network's flagship blog.
"An incredibly timely opportunity to share research in these challenging times, the NNHRR Doctoral Forum was a valuable and interactive way to meet other doctoral researchers in this field. I received useful insights and feedback on my work and discovered other approaches to human rights.'' -Isabella Leroy (Vrije Universiteit Amsterdam)
Exchange of ideas
The Forum included presentations on a wide range of topics, and participants were able to outline their research project or present a chapter or article they were working on. In her opening message, NNHRR Steering Committee Chair Prof Yvonne Donders underlined that the Network exists primarily to provide support, training and connections for its PhD members. On behalf of the host institution Erasmus University Rotterdam, Prof Sanne Taekema reflected on her longstanding involvement in the Network (and its predecessor, the Netherlands School of Human Rights Research), and how she continues to collaborate with good friends and colleagues met through the Network.
Panels and presentations
The first panel, on 'Human rights and specific groups', kicked off the Forum's first day with discussions on the political rights of migrants (Jordan Dez, Vrije Universiteit Amsterdam), legal exceptionalism in refugee camps in Europe (Isabella Leroy, Vrije Universiteit Amsterdam) and how indigenous women shape the development of international law (Amy Locklear, Tilburg University). Dr Moritz Baumgärtel (Utrecht University) gave valuable feedback about the importance of this research. Next, the panel on 'Human rights and the environment' considered the plight of small island nations in the context of sea-level rise (Selman Aksünger, Maastricht University) and civic space, global health and the climate crisis (David Patterson, Groningen University). Constructive comments on the dangers of stretching human rights too far were provided by Prof Fons Coomans (Maastricht University).
 "The NNHRR Doctoral Forum was an incredibly fulfilling experience for me to present my work at such an early stage of the PhD. The environment of the Forum was collaborative and constructive, which gave me the tools and additional motivation to implement the feedback in my research." - Selman Aksunger (Maastricht University)
 The afternoon saw a panel on 'Human rights and procedure', discussed by Dr Ingrid Leijten (Leiden University). The panel considered the concept of silence as evidence (Tessa van der Rijst, Vrije Universiteit Amsterdam), the right to a fair trial (Nathalie Schnabl, Open University) and a law and literature approach to European Court of Human Rights judgments (Yuliia Khyzhniak, Groningen University). The final panel on the first day was themed 'Human rights and international humanitarian law' and benefited from the expertise of Prof Harmen van der Wilt (University of Amsterdam). Panelists discussed conflict-driven starvation (Jolanda Andela, Erasmus University Rotterdam), State responsibility for facilitating serious violations of international human rights and humanitarian law (Joëlle Trampert, University of Amsterdam) and facilitating compliance with international law in military artificial intelligence by design (Taylor Woodcock, Asser Institute).
"Participating in the Forum feels like a valuable building block in the PhD process. It provided for an inspiring setting to share work, gain experience in presenting and learn from both peers and more senior academics." – Nicky Touw (Open University)
 On the second day, human rights-based approaches were discussed in relation to mobile health in China (Lujia Sun, Erasmus University Rotterdam) and the question of whether there is a human right to social care (Alicia Dibbets, Utrecht University). Prof Yvonne Donders offered excellent reflections on the intricacies of adopting a human rights-based approach in academic research. Next, Prof Antoine Buyse (Utrecht University) gave feedback on the 'Defining human rights' panel, where the SAS v France case of the European Court of Human Rights (Maurits Helmich, Erasmus University Rotterdam) and the tension between hate speech and free speech (Audrey Fino, Groningen University) were discussed. Participants reflected on the impact of different cultures on the definitions of national identity and acceptable speech. Finally, the 'Business and human rights' panel brought the research-sharing part of the Forum to a close. Dr Lottie Lane helped presenters to develop their ideas on business and human rights and international investment agreements (Abdurrahman Erol, Erasmus University Rotterdam) and access to information for victims of corporate human rights violations in civil litigation (Nicky Touw, Open University).
 "The NNHRR Doctoral Forum provided me a unique experience to share my research outcomes with brilliant fellow human rights researchers and receive their constructive comments. The Forum offers an extraordinary opportunity, especially for 1st and 2nd year PhD researchers, to present and reflect on their work and get to know researchers with similar interests." - Abdurrahman Erol (Erasmus University Rotterdam)
Learning new skills and socialising
Participants also attended a training session on drafting conference abstracts delivered by Dr León Castellanos-Jankiewicz, the NNHRR Academic Coordinator. Participants found the training session useful and well-suited to the ethos of the Forum. Finally, the group was able to kick back after a demanding two days with informal drinks and a pub quiz. Participants reflected on the important role that the Network plays in supporting PhD candidates during such an isolating time by facilitating connections with colleagues across the Network's member institutions. "It was a very rewarding experience to organize and participate in the Research Forum! We learned about so many interesting and important research projects and it was wonderful to be in this supportive and collaborative environment", says Daniela Heerdt, PhD member of the Network and co-organizer of the event. We hope to continue to offer this great event, ideally next time in a face-to-face setting. 
For the full programme of the Doctoral Research Forum click here.