Max van der Stoel Human Rights Award 2019
Published 31 December 2019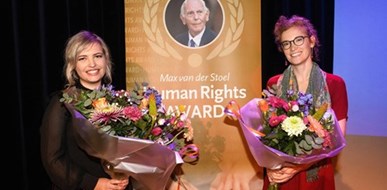 On the occasion of UN Human Rights Day, the Max van der Stoel Human Rights Award has been presented today at Tilburg University. Julie Fraser of Utrecht University received the award for best dissertation in the field of human rights research and Peggy ter Vrugt of Maastricht University won the prize for best Master thesis in that area.

The jury, chaired by Distinguished University Professor at Tilburg University and President of the T.M.C. Asser Instituut, Prof. Ernst Hirsch Ballin, was unanimous in its decision to award two nominated studies conducted at Dutch and Flemish universities. This year, 24 nominations for the Award were received from Dutch and Flemish universities, a number that almost doubled the 13 nominations received for the 2017 edition.
Dr Julie Fraser's dissertation is entitled Every Organ of Society. Exploring the Role of Social Institutions in the Effective Implementation of International Human Rights Law. According to the jury, this work goes to the heart of the challenges for human rights protection in the 21st century, that is, the involvement of social institutions and non-state actors in the implementation of human rights obligations. Fraser arrived to well-founded policy recommendations and rightly identified a shift from the state as the central actor in human rights implementation. The jury awarded Fraser 2,000 euros in prize money.
Peggy ter Vrugt LLM, who won the prize for her Master thesis Innocent, forgotten and punished. Rights of children of imprisoned mothers in the Netherlands, combined traditional juridical methods of legal interpretation with field research in a very original way, according to the jury. The jury awarded Ms ter Vrugt with 500 euros in prize money.