[In the media] Final ruling for Mladić on genocide conviction
Published 8 June 2021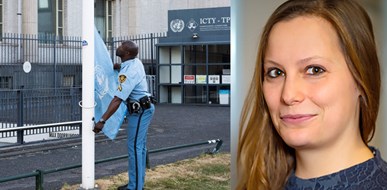 Today, the international criminal tribunal for the former Yugoslavia (ICTY) in The Hague will give its final ruling on the Ratko Mladiç case. Asser researcher Sofia Stolk gave her comments on the case in an interview with news agency Associated Press.
In 2017, the tribunal sentenced Mladic to life imprisonment, after he was  convicted of masterminding crimes throughout the 1992-95 Bosnian War. That was including genocide in the eastern enclave of Srebrenica in 1995, where his forces murdered more than eight thousand Muslim Bosnian men and boys.

Stolk called today's final ruling by the ICTY is important, as 'it will close the tribunal's last key case and because it concerns genocide, the deliberate killing of people from a particular nation or ethnic group with the aim of its destruction'.

Read the full story.
Upcoming event: Visualising the Mladic trial
On Wednesday 23 June, the Asser Institute will organise the event 'Visualising the Mladic trial'. In this SCL lecture, we will offer a perspective on the trial and the work of the International Criminal Tribunal for the former Yugoslavia (ICTY) through two artistic interventions: the documentary The Trial of Ratko Mladic (Rob Miller and Henry Singer, 2018) and the exhibition Resolution 808 – Inside the Yugoslavia Tribunal (Jorie Horsthuis and Martino Lombezzi).

The speakers, journalist and political scientist Jorie Horsthuis, documentary photographer and historian Martino Lombezzi, and documentary filmmaker Rob Miller, will shed light on the process and impact of their artistic rendering of the trial and the importance of such visualisations for the legacy and reach of the ICTY more generally.
Moderator: Sofia Stolk
Read more.
Register*.
*When registering for the event, you will also get access to the film The Trial of Ratko Mladic for a 24-hour streaming period.