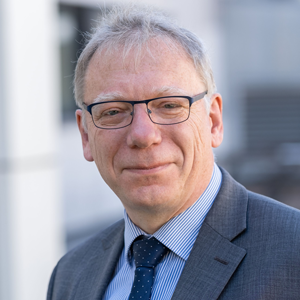 Prof. Dr Thilo Marauhn
Special Chair Arms Control Law

Department:

Researchers

Research strand:

Regulation in the public interest: Disruptive technologies in peace and security
Profile
Thilo Marauhn graduated from the law faculty of the Ruprecht-Karls-Universität in Heidelberg, Germany, and obtained his doctorate in law (Dr.iur.) in 1994 on the legal basis for Germany's rejection of chemical weapons, a thesis for which he received the highest distinction. In 1995, he received a Master of Philosophy (MPhil) degree from the University of Wales, based upon a thesis dealing with the formation of a European Security and Defence Identity.
Marauhn worked as a researcher at the Max Planck Institute for Comparative Public Law and International Law in Heidelberg. He also was an assistant professor at the Johann Wolfgang Goethe University in Frankfurt. In 2001, after a short period as Professor of European Law at the University of Strathclyde, Glasgow, he was appointed professor of Public Law, International Law and European Law at the law faculty of the Justus Liebig University Giessen, where he served as dean from 2006 to 2009. In addition, Marauhn, since 2001, holds the position as a permanent visiting professor at the faculty of law at the University of Lucerne, Switzerland.
For his second dissertation "Reconstruction of fundamental social rights as a normative category", Marauhn received the Werner Pünder Prize for the best dissertation at the Johann Wolfgang Goethe University in the field of "freedom and totalitarianism/constitution and history of political ideas since the 19th century."
Since 2016 Marauhn has been Head of the Research Group on International Law at the Peace Research Institute Frankfurt (PRIF), Member of the Leibniz Association. PRIF is one of the leading peace research institutes in Europe.
Beyond his research, Marauhn has continuously been involved in consultancy work. Since 2017 he has been President of the International Humanitarian Fact-Finding Commission.
Marauhn combines his endowed professorship in Arms Control Law with his work as Professor of Public Law and International Law at the Justus-Liebig Universität Giessen and at the Peace Research Institute Frankfurt in Germany.
Related news