León Castellanos-Jankiewicz wins David D. Caron Prize
Published 14 November 2018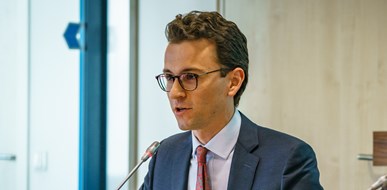 Asser researcher Dr León Castellanos-Jankiewicz has been awarded the inaugural David D. Caron Prize for his paper entitled 'Nationality, Alienage and Early International Rights' at the American Society of International Law 2018 Research Forum in Los Angeles, California.
The Prize recognises the best paper submitted to the American Society of International Law Research Forum by a current student or recent graduate. The paper presented by Dr Castellanos-Jankiewicz emphasises the role of private international law in the development of international rights and standards of individual protection during the nineteenth century, particularly as regards the treatment of aliens. According to Dr Castellanos-Jankiewicz its originality resides in accounting for the fluid disciplinary boundaries between public and private international lawyers at the time.
David D. Caron (1952-2018) was President of the American Society of International Law in 2010-12. He was a judge, lawyer and scholar who, at the time of his passing, was a member of the Iran-US Claims Tribunal in The Hague, and served as a judge ad hoc on the International Court of Justice. Susan L. Spencer presented the Prize on behalf of the Caron family at the launch of the David D. Caron Fund, which has been established to support the professional development of young international lawyers and to expand the participation of non-US nationals in the Society.
Dr Castellanos-Jankiewicz is part of Asser's Memory Laws in European and Comparative Perspective (MELA) team. The MELA project is a four-nation, EU-sponsored consortium gathered to examine memory laws throughout Europe and the world.